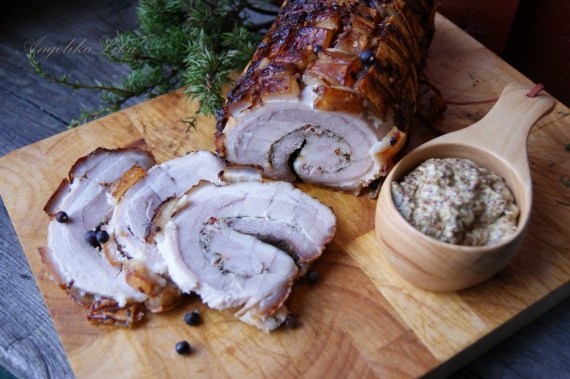 2 kg Breast (boneless)
rosemary
juniper berry 10 pcs
1 tbsp coarse salt
pepper black pepper
1 tsp chili (I Dried and crushed)
2 tbsp rastit.masla
4 cloves of garlic
100 ml of water
At bacon optional incision peel cubes.
In rastit.maslo squeezing garlic, crushed in a mortar, add bell pepper, juniper, rosemary, chili and salt. Rub this mixture of bacon, turn rolls, thick overtighten culinary thread, put in a package for roasting meat and put in the refrigerator overnight. You can brisket rub with salt and place in the refrigerator overnight, and then two hours before roasting rub this mixture.
Preheat the oven to 180 ° C. Pour into a bag with 100 ml of water roll, tying the bag and put the loaf in the oven for 1 5/2 hours. Then you can open the package and give the meat browned about 15 minutes, increasing the temperature to 200 gr. We took out the roll out of the oven and give lie down for 20 minutes, covered with foil.