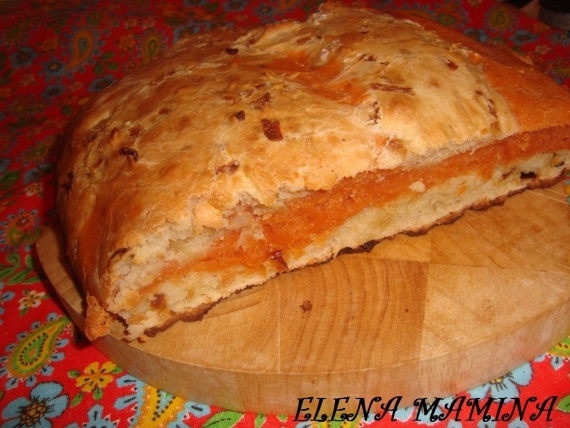 Ingredients:
Wheat flour - 3 stack.
Milk - 1 cup
Dry yeast - 8 g
Salt - 1 ch. L.
Sugar - 1 tbsp. l.
Egg - 1 pc
Tomato paste - 3 tbsp. l.
Onions - 1 pc (large)
Vegetable oil - 6ST l
Cooking recipe.
For the sponge mix yeast with 1 tablespoon flour. Milk to heat, add salt, sugar, mix well. Pour the mixture with yeast, stir thoroughly. Cover with a towel and put in a warm place for 20 minutes. Meanwhile, onion peel, chop and fry in vegetable oil (3st L) until golden brown. Add a pinch of salt and sugar, cool. In brew add the egg, vegetable oil (3st L). Now divide into 2 bowls brew. We will have 2 tests. 1 In a bowl add the tomato paste, the other fried onions and stir. Next to each bowl gradually add the sifted flour on 1.5stakana, knead the dough. Cover with towel and leave to rise. After 30 minutes obmyat approach and leave for another 15 minutes.
Take the onion layer of dough, cover with tomato on top of the dough, onion a little camouflage. Form a circular shape. Put the dough on a baking paper. Bake at 200 g - 30min.