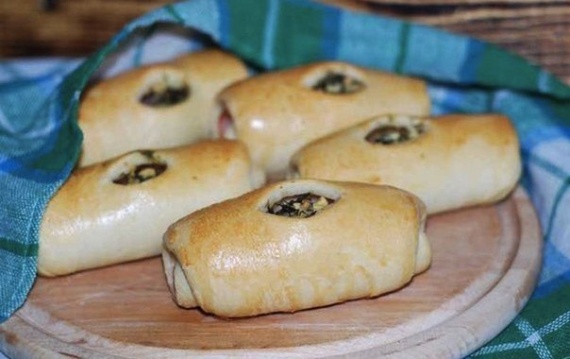 Ingredients:
 - Wheat flour - 500 g
 - Milk - 150 ml
 - Water - 100 ml
 - Yeast (granular) - 2 h. L.
 - Sugar - 1 tbsp. l.
 - Salt - 1 ch. L.
 - Vegetable oil (30 ml in 10 ml of dough and stuffing) - 40 ml
 - Egg - 1 pc
 - Garlic - 3 tooth.
 - Dill
 - Ham - 200 g
Preparation time: 240 minutes
Servings: 5
Preparation:
1. To prepare these bagels can use any favorite yeast dough as for pies. We have our own favorite version. For mixing, we use the bakery. If you do not have this unit, then proceed as follows. Pour warm water into a bowl, add the sugar and yeast, stir and leave for 10 minutes. In a separate bowl, combine milk, butter and salt. In the milk mixture add the yeast mixture, stir well (better mixer).
2. Gradually add the flour, whisking continuously. Next, lay the dough on the table (previously dusted with flour) and knead, adding the remaining flour until dough elasticity state. Smazhem pan with vegetable oil and place the dough in it, cover with cling film or a damp towel. We leave in a warm place for 1, 5 hours. Here is the finished dough.
3. Next, thinly sliced ​​ham, a thickness of about 2-3 mm. Divide the dough into 10 equal parts, roll out into an oval, commensurate with the size of the rings ham. Ham laid on the rolled out dough. Twist the dough into roll with ham (bagel).
4. Take a baking tray covered with baking paper, and laid him bagels with ham seam down. Cover with a towel and leave for proofing for 15 minutes. Finely cut dill and garlic. Lubricates beaten egg bagels and makes an incision in the middle of a sharp knife. The knife must cut the dough and the top layer of ham. Mix the dill and garlic. Can be a bit prisolit, add vegetable oil. Stir.
5. cuts neatly impose on 0, 5 teaspoon garlic-dill mixture. Put the pan in a preheated