It's soft, fluffy
bagels
with a creamy touch will not leave anyone indifferent. A special charm that prepare them not just easy, but very easy. This recipe is long gone my friends!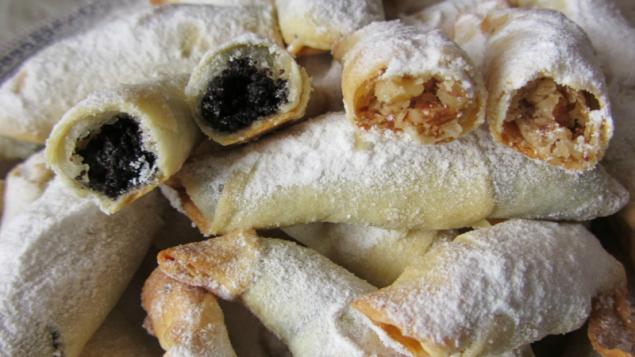 Peerless
pastries
: crispy on the outside, soft on the inside and with plenty of delicious toppings... But these bagels one drawback: too quickly they disappear from the plate!
Bagels from sand testingquality for the test
1 tbsp. sour cream
250 g butter
0.5 tsp. soda
flour (how much dough will take)
Ingredients for the filling
Cooking
First, pour in a bowl 2 tbsp. flour, place the chilled butter and chop it with a knife. Then you can RUB the butter into the flour with your hands.




Add to the semolina, the baking soda and sour cream, stir and add more just enough flour to make dough a consistency like dumplings. Take him in whom and send in the fridge for 30 minutes.
Prepare poppy seed filling. For this poppy grind in a coffee grinder, pour a small amount of hot water, let steep for 10 minutes. Add sugar to taste and stir.
To prepare nut filling, you need the crushed walnuts mixed with sugar. For grinding nuts, I use a rolling pin, just rolling the kernel on the Board. It turns faster and generates more precious peanut butter.
Get the dough out of the fridge, alumni and roll it thin-thin (thickness about 1 mm). Cut the dough into triangles.




Put the filling and roll up the Crescent rolls.




Bake the bagels for about 15 minutes on the baking sheet in the oven at 180 degrees. Try not to overdo products, so as not to overdry! The finished rolls sprinkle with powdered sugar.
As
toppings for the bagels are
perfectly suitable fruit jam or marmalade, chopped dried fruit, ground cinnamon cottage cheese... In fact, what you want, then put it in!
Bon appetit you and your loved ones, by the way, don't forget to share with them the recipe!