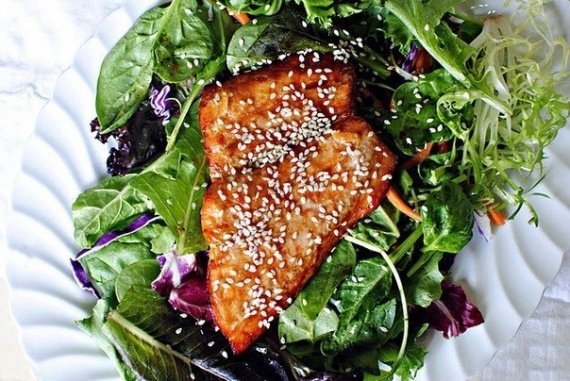 Ingredients:
For salmon:
 - Soy sauce - 3 tablespoons
 - Sesame oil - 1 tablespoon
 - Brown sugar - 1 tablespoon
 - Orange (zest and juice) - 1/2 piece
 - Salmon - 4 pcs
 - Olive oil
For the salad:
 - Lettuce
 - Red cabbage (chopped) - 100 g
 - Carrots - 100 g
 - Marinade for salmon (remaining)
 - Sesame
Preparation:
Salmon, cut into equal parts. Mix the soy sauce and sesame oil. Add the brown sugar. Grate the orange zest. Squeeze the juice of half an orange.
Pour half the marinade salmon and leave for 15 minutes. Cover the baking sheet with foil. And put on his salmon. Put in the oven at 180 degrees and bake for about 10-15 minutes (or until the salmon is cooked, begins to disintegrate into fibers).
Mix lettuce, sliced ​​carrots, cabbage planed. Top with salmon. Pour marinade salmon second half. Sprinkle with sesame seeds.