Say, for the season you need to eat 5 kg of strawberries. Don't know who invented this is a great rule, but follow it I will never get bored. However, after the fourth pounds want extremes) After all, Queen of summer, good with cream or ice cream. She's capable of more daring combinations: mint and black pepper, greens and vegetables, meat, fish and seafood. So on the weekend I plan to organize your taste buds a little shake and try out a couple of bright and unusual recipes. Join us!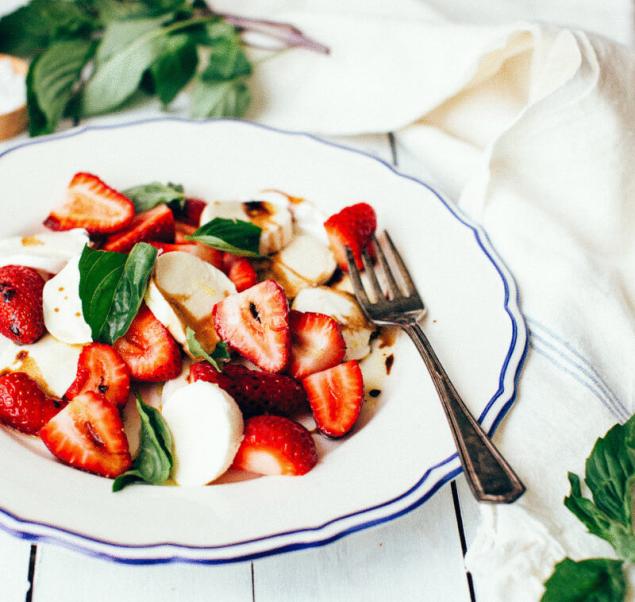 It is in salad strawberries and spinach, have found each other. Based on this combination invented many amazing recipes, and most of them use balsamic vinegar: it "stresses" the strawberries. It's made from a thick grape syrup, which is mixed with wine vinegar and a few years aged in special barrels. So if you buy balsamic vinegar you the problem, at least it can be replaced with wine vinegar. Some cooks suggest sweeten it with honey or infused with herbs.  
1. Strawberry salad with spinach and feta cheese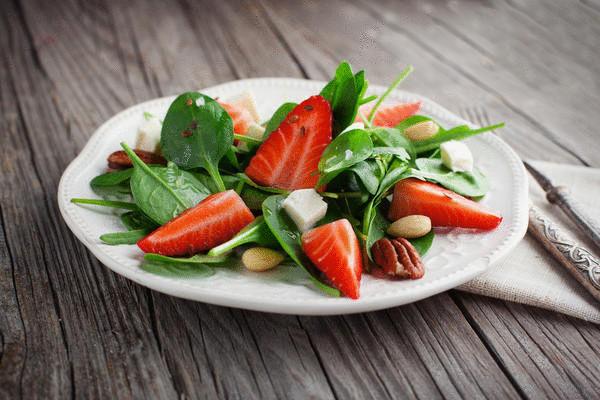 Ingredients:
300 g of young spinach leaves
400 g strawberries
200 g feta cheese
50 g nuts (walnuts, pine or almonds)
For the filling:
3 tbsp olive oil
1 tbsp balsamic vinegar
Preparation:
Sliced strawberries to combine with spinach. Add pieces of cheese and nuts. Pour all of the dressing and mix gently.
2. Strawberry salad with spinach and pear
Combination is interesting, but for our edges a bit dramatic: you will need either imported pears in June or everbearing strawberries in August. I prefer the second option. First test planted last year sort of "Moscow delicacy" (the first harvest is removed). And secondly, you can do more and strawberry salad with melon, but that's another story.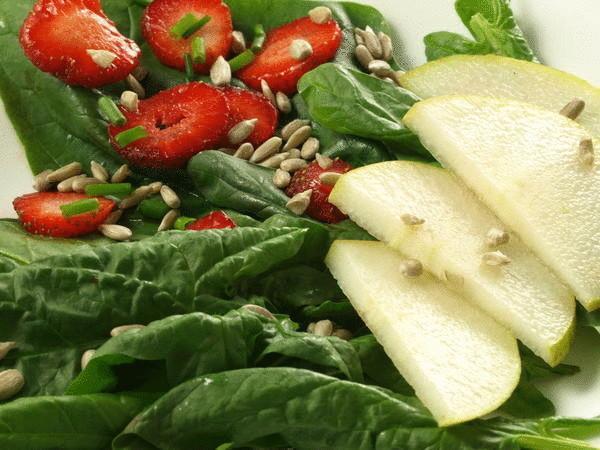 Ingredients:
1 bunch of spinach
1 bunch leaf lettuce
8-10 strawberries
2 pears
180 g feta cheese
165 g of balsamic vinegar
50 g sunflower seeds or walnuts
Preparation:
Pear peel, remove core, cut into slices. Strawberries cut into slices. Greens roughly chopped or torn, folded into a salad bowl and mix with 120 ml of balsamic vinegar. From above to lay out slices of pear, slices of strawberries and slices of cheese. Sprinkle roasted sunflower seeds or walnuts. Sprinkle with remaining 3 tsp of balsamic and serve.
3. Salad with spinach, strawberries and kiwi
is a Simple and exquisite recipe from Julia Vysotskaya:  
4. Strawberry salad with spinach and chicken
is a Fun option for those who are bored of summer salads.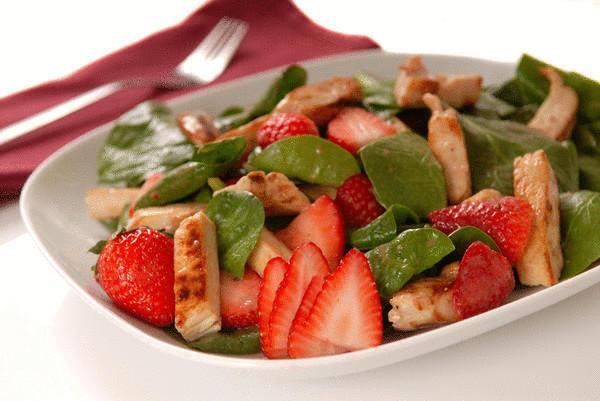 Ingredients:
2 bunches of spinach
200 g strawberries
150 g of boiled or grilled chicken meat
150 g of walnuts
For the filling:
2 tbsp Flaxseed oil
2 tbsp Apple cider vinegar
2 tbsp orange juice
1 tbsp honey
1 tsp Dijon mustard
1 tsp orange zest
0,5 tsp sea salt
2 tsp finely chopped parsley
pinch of black pepper
Preparation:
Ingredients for the filling to combine, mix, whip, pour into a gravy boat and send in the fridge for 15-20 minutes Spinach wash, dry and go through. The large leaves to postpone, the rest coarsely cut or break. Pave the bottom of a large salad bowl with spinach leaves. Then put the chicken, sliced strawberries, remaining spinach, and roasted nuts. Pour dressing, mix and serve. Tip: the chicken in this salad can be substituted with smoked salmon.  
5. Strawberry salad with bacon and Basil
Trivial culinary story performed by Jamie Oliver:
6. Strawberry salad with tomatoes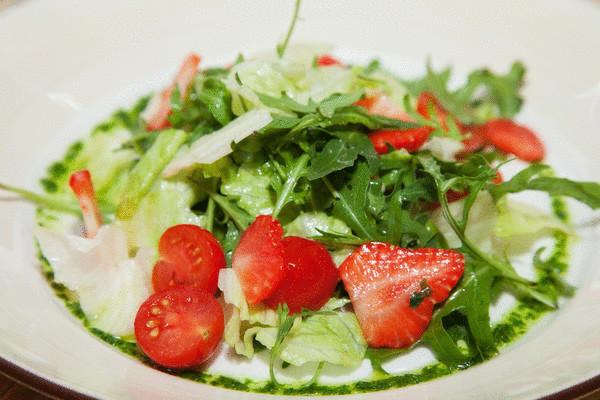 Ingredients:
1 tsp honey mustard
2 tbsp balsamic
4 tbsp olive oil
300 g greens: lettuce varieties and arugula
300 g ripe cherry tomatoes
350 g strawberries
50 g roasted walnuts
120 g soft feta cheese
3 sprigs of dill
Preparation:
Mix the honey-mustard sauce (Dijon mustard with honey in the ratio 1:1) with balsamic vinegar and whisk. While whisking, carefully pour in the olive oil. Stir and set aside. Greens coarsely chop or tear by hand. Strawberries and tomatoes cut into halves. Put all the ingredients in a salad bowl and shake gently several times to mix. Add the dressing and again mix well. Serve, garnished with sprigs of dill.
7. Strawberry salad with cucumbers
Light and refreshing. Instead of Basil you can add any greens: lettuce, arugula, cilantro or dill.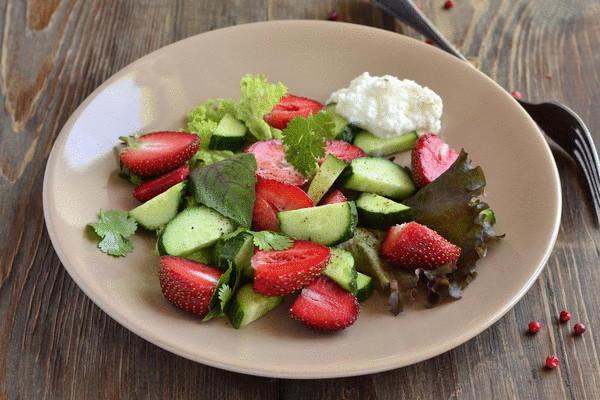 Ingredients:
2 medium cucumber
400 g strawberries
2 tbsp finely chopped green Basil
2 tsp balsamic vinegar
1 tsp sugar
1 tsp. fresh lemon juice
1/4 tsp salt
1/4 tsp freshly ground black pepper
Preparation:
Strawberries wash, remove the stems and cut each berry lengthwise into 4 pieces. Add Basil, balsamic vinegar and sugar and mix gently. Put in refrigerator for 1 hour. Wash and thinly slice the cucumbers, sprinkle them with lemon juice, stir and put in a Cup of strawberries. Add salt, pepper, again mix well and serve immediately.
8. Strawberry salad with asparagus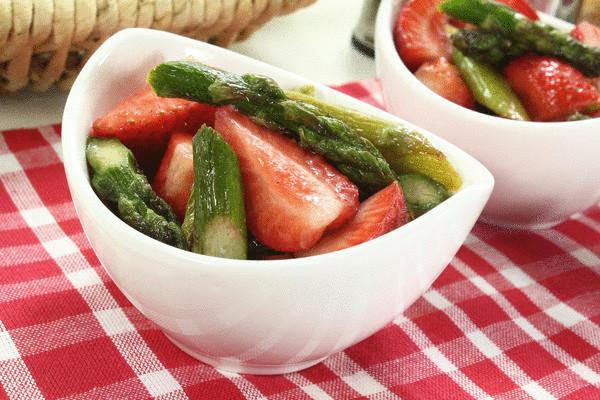 Ingredients:
200 g asparagus
200 strawberry
2 tbsp lemon juice
2 tbsp olive oil
1, 5 tbsp. of honey
3 tbsp balsamic vinegar
Preparation:
In a separate bowl mix the lemon juice, olive oil, honey and balsamic vinegar. Salt and pepper to taste. Set aside. Sprouts asparagus in a pot with boiling water and cook for 3 minutes. Dry on a paper towel. Strawberries wash, remove the tails and cut into quarters. On a serving dish lay out the asparagus and strawberries, drizzle with dressing and serve.
9. Strawberry salad with avocado and shrimp
is Quick and easy:  
10. Strawberry salad with tuna
is Simple and hearty dish with a Spanish character)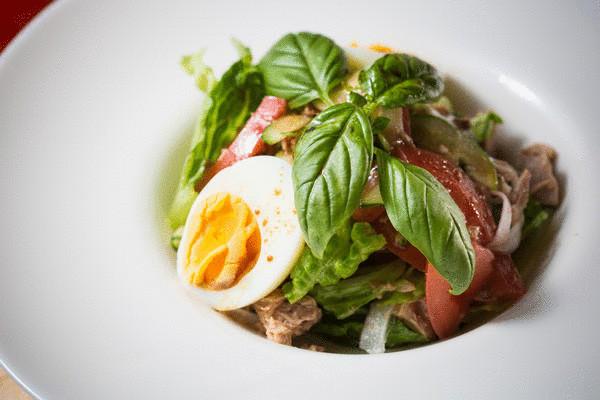 Ingredients:
1 bunch leaf lettuce
1 can of tuna in its own juice
100 g strawberries
1 tbsp balsamic vinegar (salad you can substitute lemon juice)
2 tbsp olive oil
1 boiled egg for decoration (instead of chicken you can take a couple of quail)
4-5 Basil leaves
salt and pepper to taste
Preparation:
Salad and strawberries to wash. Lettuce coarsely chop or break it, the berries are cut into 2-4 pieces. Mashed with a fork tuna meat and combine with the strawberries and salad. Mix olive oil and balsamic vinegar, lightly beat and season the salad mixture. Season with salt and pepper (to taste), garnish with sliced eggs and Basil leaves and serve.
11. Strawberry salad with octopus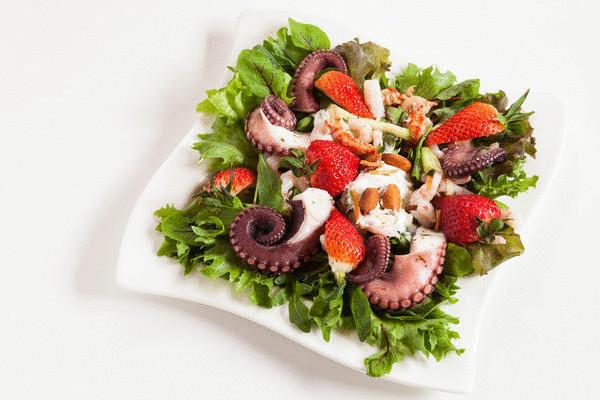 Ingredients:
250 g octopus tentacles (and/or squid)
500 g fresh strawberries
5-6 green onion
1 tbsp balsamic vinegar
salt and pepper to taste
Preparation:
The octopus tentacles with salt and pepper. Leave to marinate for 5 minutes. Fry the tentacles on the grill on both sides for 10 minutes. Cool and cut into pieces. Strawberries wash and cut into halves. Fold in the salad bowl and the pieces of octopus, strawberries, chopped green onions, drizzle with balsamic and gently mix. In a world of many more strawberry salad recipes: quinoa and arugula, mango and oranges, red onions, broccoli and even mushrooms! And not always they compose cool bosses. It is important not to be afraid of "strange" combinations and listen to your intuition) Good luck experimenting and Bon appetit! published  
P. S. And remember, only by changing their consumption — together we change the world! ©
Source: www.7dach.ru