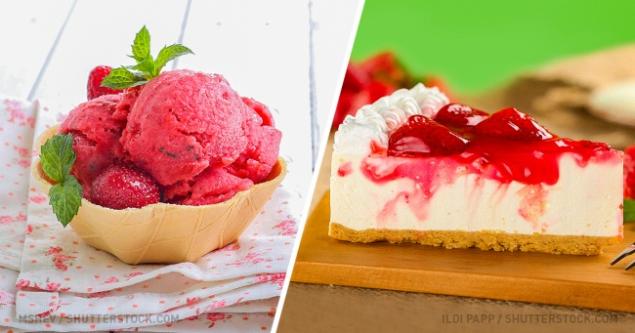 They say that the summer should eat as many fresh fruits and vegetables to vitamins enough for the whole year. And even now in supermarkets you can find almost any products even in cold winter, there is nothing better than the first strawberries, which opens the summer berry season.
We
Website
like to share simple and delicious recipes, besides all the dishes look so good. And these strawberry desserts are clearly poised to become the darlings of this summer.
Tart with strawberries and ricotta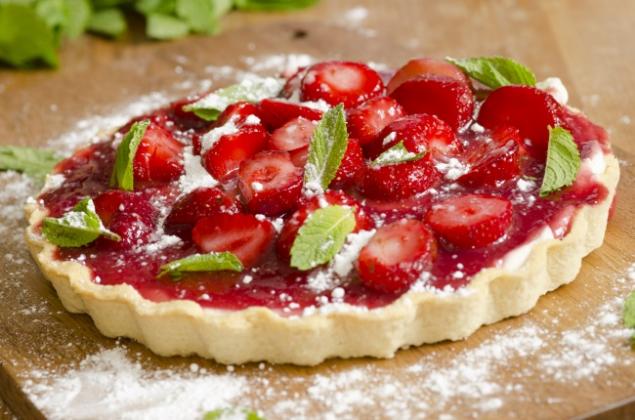 You will need:
Shell:
100 g butter
25 g sugar
1 egg yolk
150 g flour
50 g of crushed almonds
2 tbsp water
Filling:
200 g ricotta
125 g sugar
1 egg
1 egg white
Preparation:
RUB the butter with the sugar. Add the ground nuts. Add egg yolk and a couple tablespoons of cold water to replace the dough. Shape into a ball, cover with film and put in the fridge for 30 minutes. Egg protein and slightly vzbit with sugar, add ricotta, stir until smooth. The dough with your hands to distribute the form, send in the preheated oven for 10 minutes. To remove the basis for the tart, spread the filling. Bake at 180-200 °C until tender (about 45 minutes), cool. Garnish with fresh berries, mint leaves and powdered sugar.
Chocolate covered strawberries with pistachios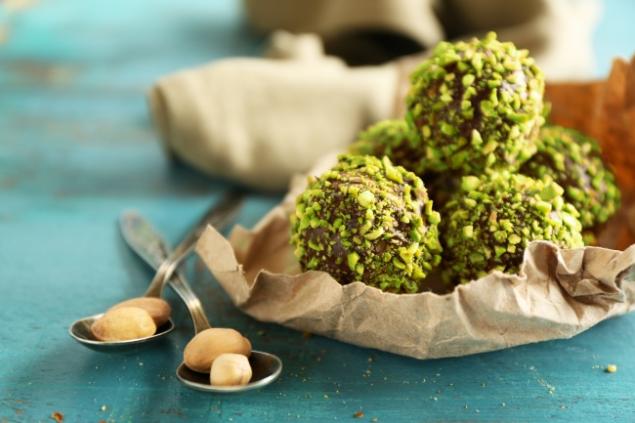 You will need:
200 g strawberries
100 g dark chocolate
1/2 tbsp chopped pistachios
Preparation:
Chocolate melt in a water bath. Strawberries wash, dry, trim the tails. Dip berries in melted chocolate or spread the chocolate on the berries with a spoon. Spread on baking paper. Quickly sprinkle with chopped pistachios. Allow to cool.
Pudding made from rice, strawberries and ricotta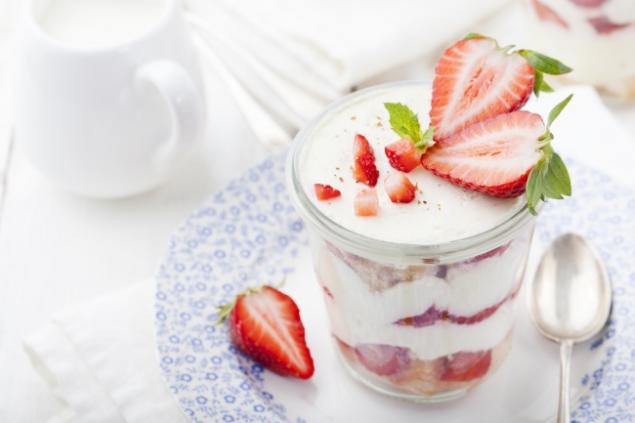 You will need:
2 tbsp cooked rice
20 g of chocolate with nuts
2 tbsp ricotta
powdered sugar — to taste
1 packet of vanilla sugar
4 strawberries
Preparation:
In a blender put the ricotta, Practica rice, icing sugar and vanilla sugar. Grind into mush. Chocolate melt in the microwave or in any other way. Two strawberries cut into small cubes. At the bottom of the glasses put the melted chocolate, then 1 tbsp of rice with ricotta, then strawberries, diced, and again a layer of rice and ricotta. On top decorate with whole strawberries. Before serving, refrigerate for 30 minutes.
Roulade with strawberries and white chocolate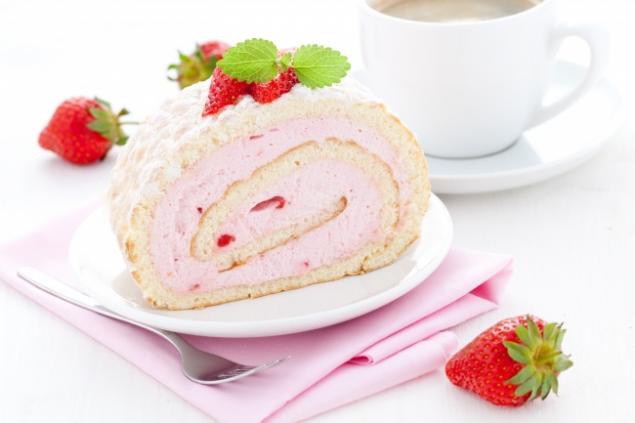 You will need:
Shell:
6 egg yolks
100 g sugar
1 tsp starch
80 g flour
Cream:
150 g white chocolate
250 g double cream
2 tbsp powdered sugar
100 g strawberries
1 lemon
Preparation:
Beat the egg yolks with the sugar until a lush light weight. Then mixed the sifted flour and mix well. On a baking sheet rolling out the parchment and grease with butter. Spread the dough and put in the oven for 18-20 minutes at a temperature of 180 °C. cream the chocolate melted in a water bath. Grind the strawberries with lemon. Whisk the cream with the powder, the chocolate should be mixed and rubbed with lemon strawberries. Biscuit remove from the oven and leave to cool. When cake has cooled, lubricated it with cream and roll up the roll.
Meringues with strawberries and whipped cream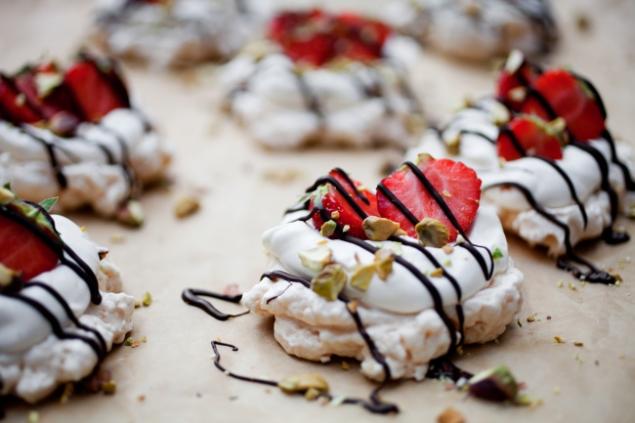 You will need:
400 g fresh strawberries
1/2 lemon
300 ml cream fat content of 33-35%
3 tbsp balsamic vinegar
2 tbsp sugar
1 pinch powdered vanilla
For meringues:
300 g icing sugar
5 egg whites
2 tsp corn starch
Preparation:
The oven pre-heated to 120 °C. to Prepare meringue: proteins vzbit in a food processor into a thick foam. Reduce speed and portions pour half of the powdered sugar, then add the starch, to introduce the rest of the powder, to increase the speed and whip for another 10 minutes. On baking paper draw circles (you can cut around the outline of the Cup). Beaten egg whites pour into a baking paper, filling the circles drawn. Bake meringue in preheated oven for 1 hour, then turn off the oven and do not remove brownies for another 15-20 minutes. From lemon, squeeze 1 tablespoon juice. Strawberries cut into 4 pieces. Sprinkle berries with sugar and vanilla powder, lemon juice and balsamic vinegar and leave to marinate. Cream vzbit mixer in a magnificent mass, it is important not to interrupt! To knock the knife at the top of the meringue to break crisp. In the center put pickled strawberries, pour strawberry sauce. From top to decorate whipped cream, fresh berries and chocolate.
Kaiserschmarrn with strawberry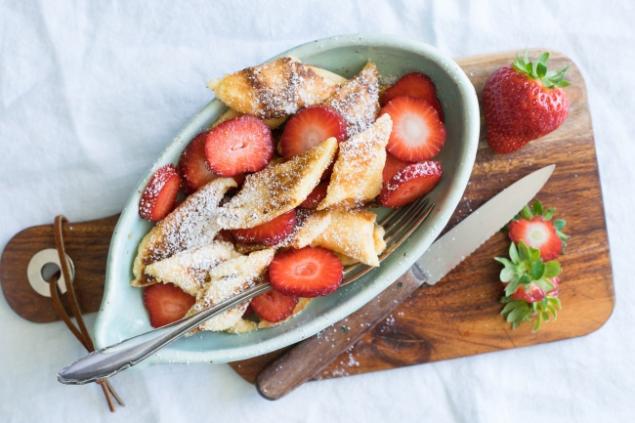 You will need:
strawberries — to taste
almond petals — to taste
powdered sugar — to taste
1 tbsp rum
150 g of milk
1 tablespoon of sugar
20 g butter
100 g flour
1 packet of vanilla sugar
1 tbsp raisins
lemon peel — to taste
3 eggs
Preparation:
Raisins pour the rum. Split eggs on whites and yolks. Mix the egg yolks with vanilla sugar, milk, flour and zest. Beat the whites to a froth. Stir the whites into the yolk mixture. Pour the batter into a greased form and send in a preheated 180 °C oven for 2-3 minutes. Sprinkle with raisins and send it back in the oven. Bake until Golden brown. To break into pieces, sprinkle with sugar and pieces of butter. Return to the oven for a few minutes to caramelize. Put it on plates, sprinkle with almond petals and sugar powder. Add the strawberries.
Strawberry sorbet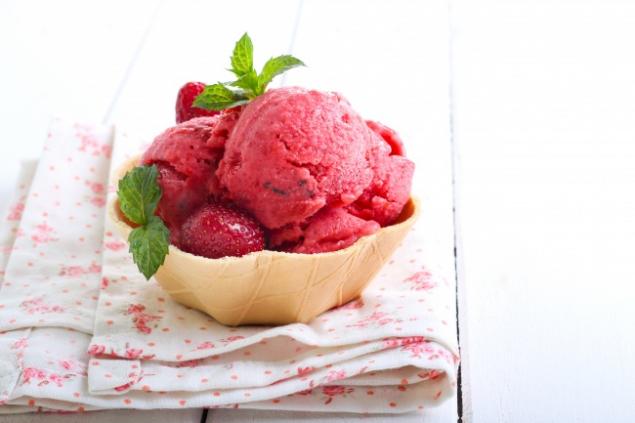 You will need:
500 g fresh strawberries
1/4 Cup sugar
100 g of orange juice
Preparation:
Grind sugar in a blender. Add berries and orange juice. Good grind everything in a blender. Serve sorbet and garnish with mint sprig.
Tiramisu with strawberries and white chocolate
You will need:
300 g strawberries
1 sachet of vanilla sugar
12 Savoiardi cookies
200 g mascarpone
50 ml natural yoghurt without additives
200 g ricotta (or grind low-fat cottage cheese)
50 g sugar or powdered sugar
100 ml cream fat content of 35%
100 g white chocolate
Preparation:
Strawberries mixed with vanilla sugar and put on fire. Cook for 5 minutes, stirring constantly. Mascarpone mix well and add ricotta, yogurt and sugar. Lay on the bottom of half of the cream. Spread on top of cookies Savoiardi. Spread the cookies with the remaining cream. Whip the cream and spread over strawberries. Decorate with shavings of white chocolate.
Warm crostini with strawberries and brie
You will need:
50 g strawberries
60 g of brie cheese
4 walnut
1 tbsp liquid honey
1 pinch thyme
1 tbsp balsamic sauce
4 pieces ciabatta
Preparation:
Ciabatta or baguette cut on the diagonal. The slices should be very thin — about 2-2,5 cm (then outside they will be crispy and the inside soft). Fry slices a few minutes in a dry frying pan until lightly Golden brown. Spread the ciabatta slices with honey and spread it on the laid parchment baking sheet. Brie cut into strips and spread on slices of ciabatta. Slice the strawberries and spread over the cheese. Sprinkle with thyme and decorate with half walnuts. Send for 5-10 minutes in a preheated 200 °C oven. Take out from the oven, sprinkle with balsamic vinegar. Crostini are ready, serve them warm or cooled.
Curd dumplings with strawberries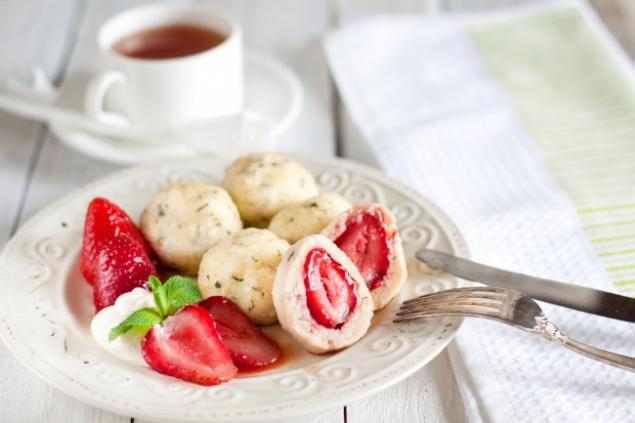 You will need:
1 egg
1 tbsp semolina
100 g flour
20 g butter
lemon zest
3 tbsp. sugar
250 g of cottage cheese
150 g strawberries
For the sauce:
250 ml of milk
1 egg yolk
1 tbsp corn starch
2 tbsp sugar
8 g of vanilla sugar
Preparation:
The cheese beat the egg and add the soft butter. Mix well. Flour mixed with salt, sugar, semolina and citron. Add the dry ingredients into the cottage cheese and knead the dough. Wrap in cling film and refrigerate for 1 hour. While the dough is resting, cook the sauce. 50 ml of milk, add starch and stir well. Put the yolk. Whisk well to mix, pour the remaining milk and add the sugar. Put on medium heat and, stirring all the time, without boiling, to give the yolk to brew. Cottage cheese dough divided into 6-8 pieces, each part of the mash into a flapjack in the middle put the chopped or whole strawberries. Wrap in a ball. So to do with the rest of the test. Throw into boiling water, boil for 1-2 minutes and remove from the heat and leave dumplings in water for 10 minutes. When serving, generously pour vanilla sauce.
Strawberry cheesecake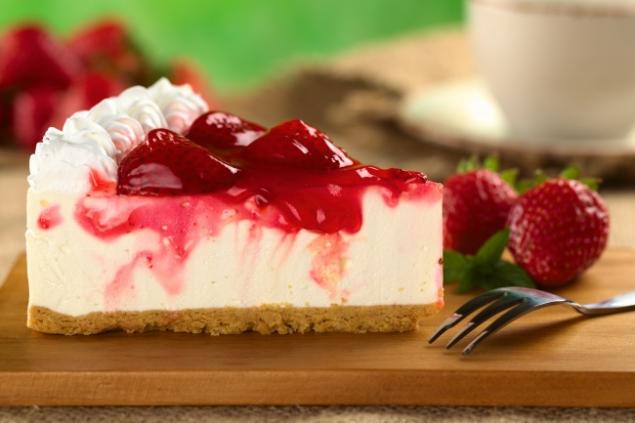 You will need:
50 g butter
250 g cream cheese
100 ml cream fat content of 33-35%
120 g icing sugar
10 g gelatin
8 strawberries
1 tsp vanilla extract
50 g of cottage cheese
200 g biscuit crumbs
Preparation:
Melt butter and mix with biscuit crumbs (you can have a cookie). In the form of (16 cm in diameter) spread the crumbs and tightly we stamp it with a glass or spoon. Put into the fridge. Gelatin fill with water. Bring some cream until hot and dissolve gelatin in them. Allow to cool a little. The rest of the cream beat with powdered sugar. Cream cheese (mascarpone, ricotta, Violette, Hochland, etc.) rubs until smooth with cheese. Add whipped cream, vanilla extract and cream with gelatin. Mix everything together until smooth. Strawberries cut in half lengthwise. Several pieces leave for decoration. In the form of a ring put film or paper in a circle and lay out the strawberries. Fill in the form with strawberry cream (it is convenient to do this using a pastry bag) and level the surface. Send a cheesecake in the fridge for a couple of hours (preferably overnight). After cheesecake has cooled, remove the ring and film. Decorate the cheesecake with strawberries and pistachio crumb, just a crumb of biscuit, coconut, or any other.
Strawberry delight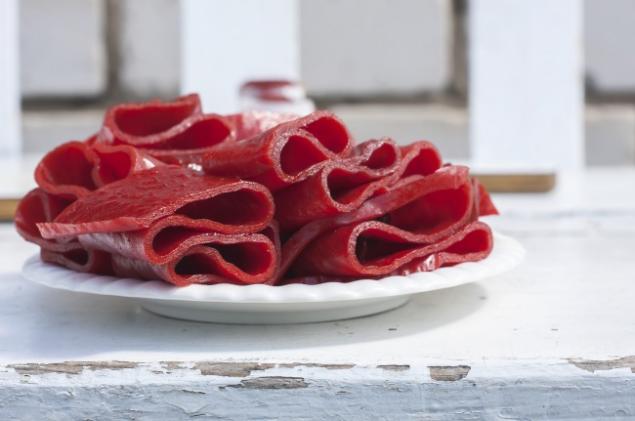 You will need:
1 kg of strawberries
1/2 Cup granulated sugar
mint optional
Preparation:
Porirua strawberries in a blender until smooth. Add the sugar and mint. Mix thoroughly. Vystelim a baking sheet with parchment paper or silicone Mat shovel and distribute the strawberry puree evenly with a thickness of about 5 mm. Put in oven, heated to 60-70 °C for 6-8 hours, until fruit leather is completely dry out and become smooth. Carefully remove the marshmallow from the parchment, cut into strips and twisted in rolls. For long term storage, put in a jar and tightly close. Or immediately rush to try with tea.
Photo preview: © However, Papp/shutterstock / © MShev/shutterstock
via edimdoma.ru