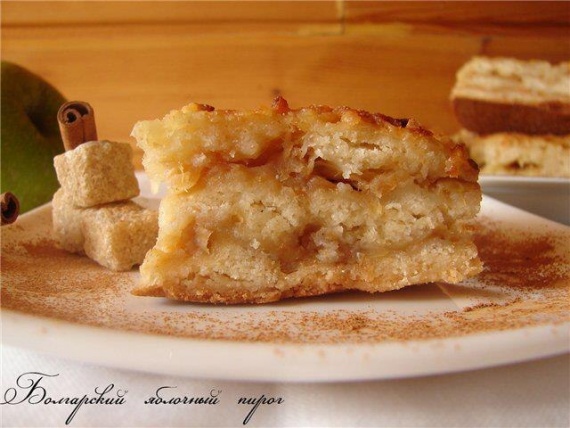 Ingredients:
1 tbsp. flour
1 tbsp. semolina
2 tsp baking powder
1 tsp finely grated lemon peel
6 large sweet-sour apples
juice of 1 lemon
1 tbsp. sugar
1 tsp cinnamon
'50 Butter
1 tbsp. boiling milk + 2 tsp vanilla sugar
powdered sugar for sprinkling pie
Preparation:
1. Sift flour with baking powder, combine with semolina, sugar (1 cup) and lemon zest. All dry mix mix thoroughly.
2. Apples to grate on a coarse grater, add the cinnamon.
3. Form a well greased with butter to the bottom was covered with a layer of at least 3 mm.
4. In the form of an even layer pour 1 cup of dry mix it gently put 1/3 of the grated apples (apples spread a tablespoon evenly over the entire surface). Apples over 1 cup of dry mixture and apples at him and so put layers to the top layer of apples appeared.
5. 1 cup milk bring to a boil, add the vanilla sugar. Pour boiling milk pie pierce in several places with a knife and hold along the walls to free milk reached the bottom of the dry layer.
6. Bake at 175 C for about 50 minutes to browning. Hot cake cut into diamonds or squares and sprinkle with powdered sugar.