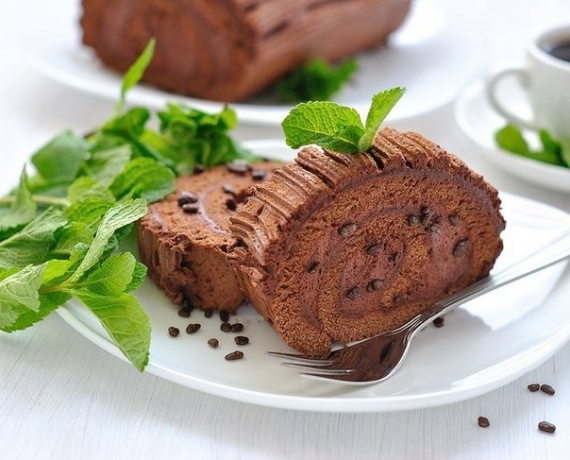 Ingredients:
dough
4 eggs (separate yolks from whites)
75g. flour
40 c. Cocoa
75g. sugar
a pinch of salt
1 \ 4 tsp. Baking powder
1 \ 4 tsp. Vanilla
citric acid on the tip of a knife
For the cream used a bag of chocolate cream mixture "Dr. Etker" and took 200 ml of milk.
Preparation:
1. Preheat oven to 180 degrees, to lay baking parchment and grease with butter.
2. Beat egg yolks with sugar until white, top Sift flour mixed with cocoa, vanilla and baking powder, mix until smooth.
3. Protein whip until a stable mass with salt and citric acid, mix gently with the yolks with a spatula or trowel.
4. The dough out onto a baking sheet, spread a layer of not less than 1 cm. And bake for 5-8 minutes, until the surface of the elastic crust is formed, it is important not to overdo the cake in the oven.
5. Ready to flip the cake onto a clean towel and carefully remove the parchment, then roll to roll and leave to cool.
6. At this time, a cream prepared as indicated on the package. You can make whipped cream, cream, cream cheese, butter and condensed milk.
7. Roll gently expand, you can soak the cake with any alcohol, I infused liquor "Irish Cream", put the cream, leave some for decoration, roll to roll again, to pass on to a dish, top to decorate with cream using a pastry bag.
8. Remove the roll for a few hours in the fridge, I cleaned the night.