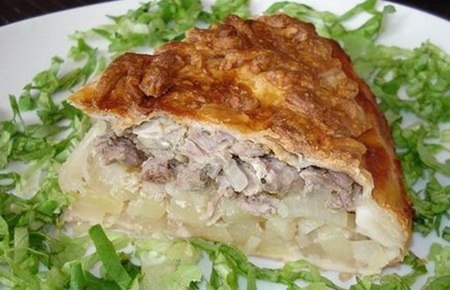 Ingredients
 - Flaky dough without yeast 1 kg
 - White mushrooms 200g
 - Chicken fillet 200g
 - Spices 10 g
 - 1 bunch greens
 - Eggs 2 pcs
 - Onions 2 pc
Preparation:
1. cut into small mushrooms, onions and fillets. Fry in a pan to the floor ready, add spices to taste.
2. Clean and finely chopped potatoes
3. The dough roll out puff 2 formation.
4. The form of the lubricating oil and put a layer of dough, spread stuffing with mushrooms and chicken. Put the potatoes, sprinkle with herbs and pour some water in the little center. top cover with a second layer of dough. Wrap the edges and lubricates the egg yolk. Boiling in the oven for 20-30 minutes at 180 degrees.