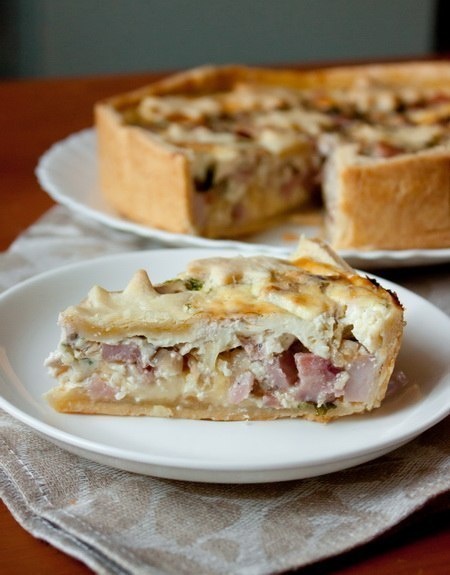 What a wonderful thing - a basic shortbread dough for pies. It goes well with sweet and savory there fillings, and space for imagination here is almost limitless. It so happened with this cake.
In the refrigerator for fateful coincidence bored piece of cheese brie, and I decided to cook a cake with him. Ham stuffing herself asked. It was very tasty
Ingredients:
For the dough:
250 g flour
125 g butter
pinch of salt
2-3 tablespoons ice water
For the filling:
1 large onion
300 g smoked cooked ham
150 g of cheese brie or camembert
4-5 green onions feathers
50 g walnuts (optional)
To fill:
2 eggs
100 g sour cream
salt to taste
Preparing the dough. To do this, sift the flour into a bowl and add a pinch of salt. Butter cut into cubes and place in a bowl to the flour. Rub the butter with the flour with your fingertips until the state of oily crumbs. Do it as quickly as possible to touch hands with the test was minimal. Add to crumb ice water and quickly knead the dough.
Form the dough ball, wrap in foil and place in refrigerator for 30 minutes.
While the dough cools, prepare the filling. Chop onion into thin half-rings.
In a frying pan 2 tablespoons warm up butter, put the onion and fry, stirring, over medium heat until caramelized state.
Bree cut into slices.
Vechinu cut into small cubes. Finely chop green onions and nuts.
Take out the dough from the refrigerator, roll out to a thickness of about 3-4 mm and placed in a split form. Should get a side height of about 3-4 cm. The edges cut off.
At the bottom of the foundations put caramelized onions on top - cheese.
Add the ham, green onions and nuts.
Cooking fill. To do this, whisk or fork, beat the eggs with sour cream.
Fill the stuffing. The remaining trim dough is rolled out, cut out the figures and put on top of the filling (the step can be omitted).
Put the form in a preheated 180 degree oven and bake until the filling grab, about 20-25 minutes.
Serve warm or chilled completely.
Bon Appetite!