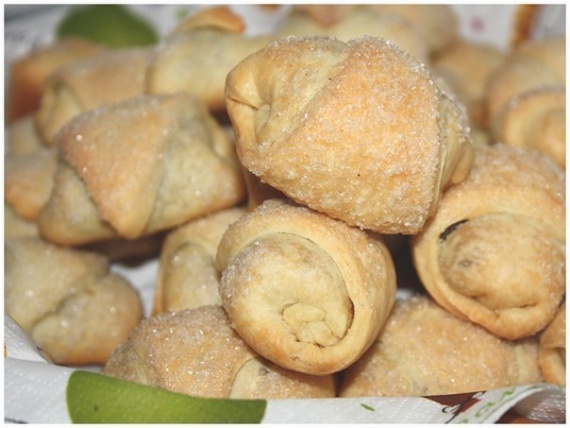 Ingredients:
100 gr. margarine (I took butter),
100 gr. sour cream,
1 egg,
1/3 tsp. Baking soda,
1 tsp. Lemon juice (to repay soda),
a pinch of salt,
about 1 1/2 cups of flour.
For the filling:
raisins, it is necessary to rinse well, then pour boiling water, let stand for 15 to 20 minutes, drained, dried raisins on c / b towel.
Preparation:
Margarine (butter) to melt, add the egg and sour cream, soda, salt and flour and knead the dough (it must be soft).
The dough is wrapped in a towel and put into the refrigerator for 1 hour.
Then divide the dough into 3 parts (one work, and the rest in the refrigerator): roll out into a circle, cut into 8 segments.
Put a little filling (raisins) and wrap.
When wrapped, then dip in sugar with cinnamon powder.
We put in a preheated 180 degree oven for 30 minutes.