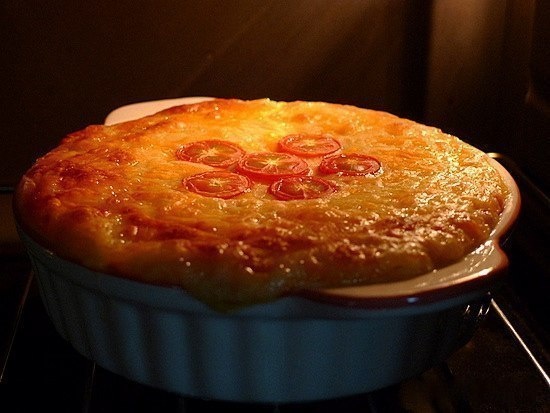 Ingredients:
 - Potatoes - 750 g
 - Butter - 40 g
 - Large onion
 - Milk - 100 ml
 - Grated cheese - 200 g
 - Dijon mustard - 1 teaspoon
 - Salt and pepper - to taste
 - Tomatoes - 2-3 pcs
Preparation:
Heat oven to 200 degrees. Boil the potatoes in salted water (15-20 minutes). While potatoes are cooked, melt the butter in a frying pan and fry the onions until golden state. Add milk and cook almost to a boil. Drain the potatoes and turn it into a puree. Add the milk, onion and cheese ¾ and mustard and a little spice.
Dish brush with butter and place there the mashed potatoes, sprinkle grated cheese and a layer of sliced ​​tomatoes on top. Bake for 20-25 minutes until the cheese is zapechetsya not become golden brown.