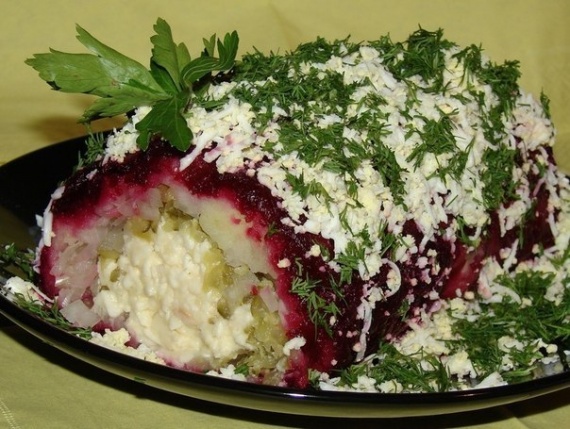 What you need:
Smoked sausage cheese - 350 gr.
Beetroot - 2 pcs. - Average
Potatoes - 4 pcs. - Average
Pickles - 3 pcs. - Large
Onion - 1 pc.
Eggs - 2 pcs.
Mayonnaise - 5 st.lozhek
Softened butter - 2 tablespoons
Garlic - 3 cloves of large
Greens
What to do:
Potatoes, beets and eggs to boil and cool. Cream cheese grate, mix with mayonnaise, butter and crushed garlic, food film is formed on a sausage, wrap and place in refrigerator for 20-30 minutes. Prepare plastic wrap, spread it on the table. It Grate beets evenly. Then grate the beets on top of potatoes. Then put the potatoes in advance pickled in vinegar or lemon juice finely chopped onions. On top with grated onion and pickles pressed. Should get a "coat". Then, in the middle of the "coat" Frostbitten put cheese sausage, gently, with the help of the film roll to roll in all, and in the film put in the fridge for an hour and a half. Take out, remove the foil, decorate with grated egg and greens.
I draw your attention - any product - not salted! After the salad sliced ​​and put in a bowl, stir together, and enough salt on cucumbers and cheese. As in any vegetable mayonnaise layer is not, it is only in the cheese.