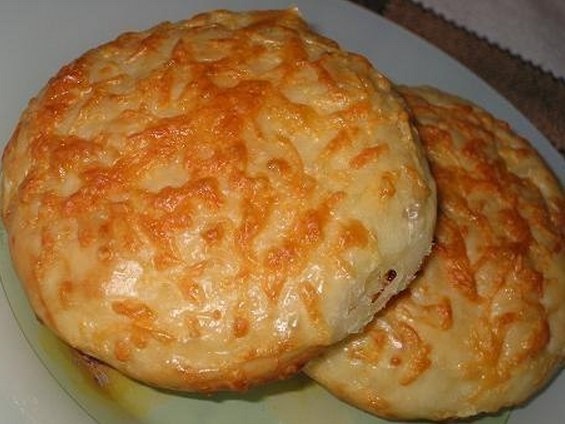 Ingredients:
-150 Grams of cheese gouda (rubbed on a fine grater) 100 grams for sprinkling.
-1 H. Spoon with a small mound of dry yeast
-0.5 Tsp. Salt
-1 Tsp. Sugar
-250 Ml warm water
-2 Item. tablespoons vegetable oil
-3-3.5 Cups flour
Preparation:
In water, dissolve the sugar and drozhzhi.zatem add salt and half the rate of flour (sifted), stir, pour the oil. Pour 150 grams syra.postepenno podsypaya sifted flour kneaded dough is smooth, shift in greased bowl, cover and put into a warm place for 1.5 hours, during which time the dough should be well podoyti.Zatem obmyat dough, lay a baking sheet with oiled paper soaked in vegetable butter hands "squeeze out" the 12 balls on a baking sheet (at a great distance from each other), to give the muffins rasstoyatsya 15-20 minutes, then lubricate well beaten egg and sprinkle with grated cheese (the remaining 100 grams). Oven heated to 200 degrees and bake muffins for 25-30 minutes, until tender.