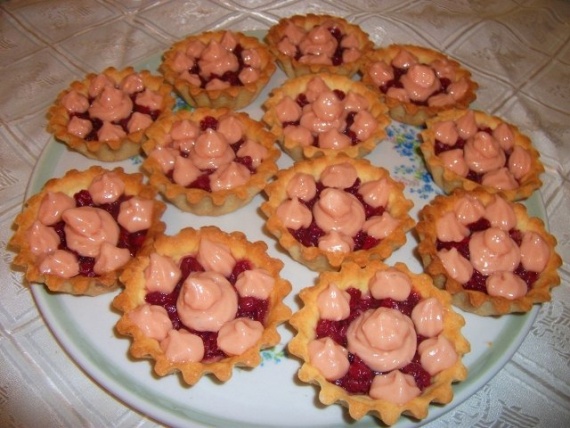 Dough:
1 egg yolk, 100 g sugar, 1/2 tsp baking powder, 2 tablespoons sour cream, 100g melted butter, 1 cup flour.
Yolk rub with sugar, add sour cream and baking powder, flour poseyat.Kak the dough roll into a ball, put on 30 minutes in holodilnik.Vypech baskets at 180gr.Pekutsya very quickly.
For the cream:
400g white pink marshmallows, 1/2 cup cream, 1 tablespoon of gelatin.
This cream color was due to the pink marshmallow.
Marshmallow cream:
Marshmallows cut finely, pour the cream, allow to stand 30 minutes.
Pour gelatin 50g milk, leave for swelling, heat, stirring constantly, but do not bring to a boil.
Beat the cream with marshmallow blender without stopping whisking add a little cooled gelatin.
In lightly sweetened cranberries baskets and Marshmallow creme give such magnificence of taste! Put the basket in the fridge for a while.