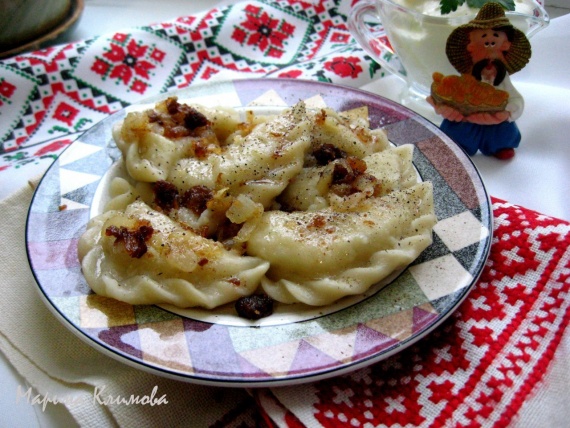 For the preparation we need such products:
Milk or whey (can be replaced by water, but dairy products tastier) - 0, 5 stack.
Flour - 2-3 stack.
Water - 1/3 stack.
Egg - 1 pc
Vegetable oil - 1 ch. L.
Salt to taste
for the filling:
Potatoes - 0, 5 kg
cream supply
greaves - 2-3 st.lozh.
Onions - 1 pc.
oil in water dumplings - 0, 5 ch.lozh.
Method of preparation:
Pour on the table or in a bowl 2 cups flour. In the center of the resulting slides make a small indentation, break there an egg and add warm water mixed with milk and salt.
Thoroughly knead the dough, add to it 1 teaspoon of oil and knead well again. The dough should be fairly elastic, and not stick to hands.
The resulting dough cover with a cloth or towel and leave for 30-40 minutes to mature. After 30-40 minutes of our wonderful dough is ready. At this time, prepare the filling.
Boil the potatoes in salted water, cool, scroll through a meat grinder.
In frayed potatoes add a little black pepper.
(You can add chopped potatoes in onion Searing)
Then roll out the dough or thin, and cut out circles pile of blank or do "sausage", 3-4 cm thick. Then we cut to "checkered". Every checkered roll out thinly enough.
At each lepeshechkah spread a teaspoon of stuffing and close up the edge.
Fold naleplennye dumplings on a floured countertop.
Further boil dumplings in a large amount of boiling water with the vegetable oil for 5-7 minutes.
Then catch dumplings with a slotted spoon and shift the dumplings in a bowl.
Greaves (I pre-cooked) to melt the frying pan add chopped onion and fry until golden brown.
To add cracklings dumplings, stir, sprinkle with freshly ground black pepper and serve with sour cream.