Translucent crescents of dough filled with a spicy filling cherry color, with a bright beet flavor and sweetness of the pumpkin, fragrant sage, cheese and solid point, the final phrase – the black seeds of the poppy. Ravioli with beets, casunziei – a traditional dish of the mountainous regions of the Dolomites, and is near and dear matching with our tastes – as if from our childhood, the same dumplings – only with a different filling.
A simple peasant dish, vegetables, eggs, flour, butter – all without hardship, but these things just remember all my life. Great patronage dishes, honed skills and clever techniques, precise delivery and sophisticated technology – all this is like art. But cute heart will always remain popular and unpretentious recipes, whose history goes back centuries and can be found in the restaurant, and in a simple village house.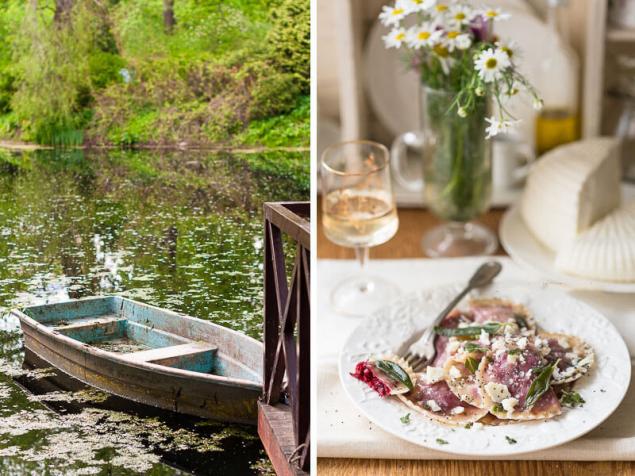 Traditionally casunziei are prepared with seasonal vegetables – spring with bright green spinach and onions, towards the autumn – stuffed vegetables, beets, potatoes, turnips, pumpkins, radicchio. Some added to the ricotta filling, but more often it's just vegetable ravioli seasoned with butter and poppy seeds. Season them with nutmeg, baked roots are ground into a puree and we decided to make it a little bit differently, to approach our usual tastes – and make dumplings with beet stuffing.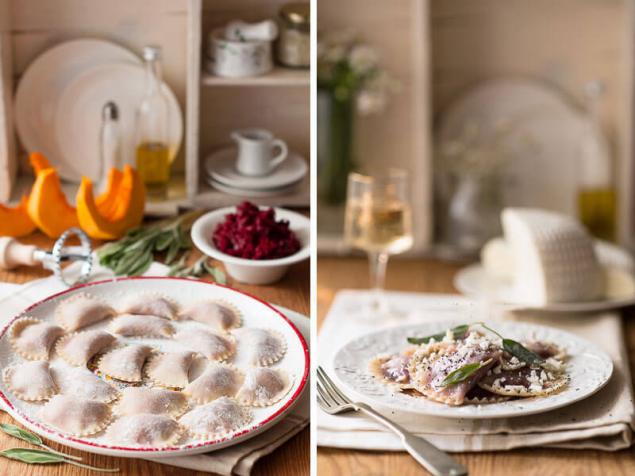 Ingredients:
For the filling:
2 medium beets
2 slices of pumpkin
1 onion
1 tbsp olive oil
1 tbsp wine vinegar
1 tbsp tomato paste
a pinch of ground sweet paprika
pinch of ground coriander
salt
Dough:
homemade or ready-made dough for dumplings
For serving:
50 g butter
1 tsp. poppy seeds
sprig of sage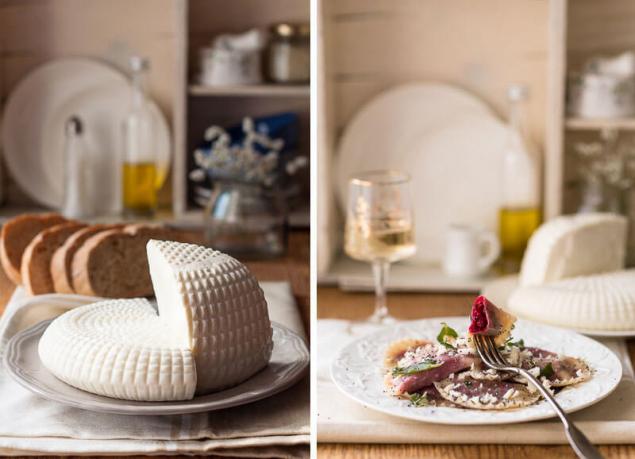 In the frying pan with olive oil. Chop the onion and fry until transparent over low heat, then add the tomato paste. Put in sauce pan finely grated raw beets and pumpkin, season with salt and cook, stirring occasionally, 5-7 minutes. Season with sweet paprika and coriander, pour in the vinegar and cook for another 5 minutes. Taste and if necessary add sugar, salt or vinegar. Cool.
To prepare a Board or plate for dumplings, sprinkle it with flour. Each piece of dough to grease around the edge with a brush dipped in cold water. In the center of the dough put a teaspoon of filling, fold the dough in half and give it a Crescent shape. We use logging for ravioli, but you can just stung the edges of the dough.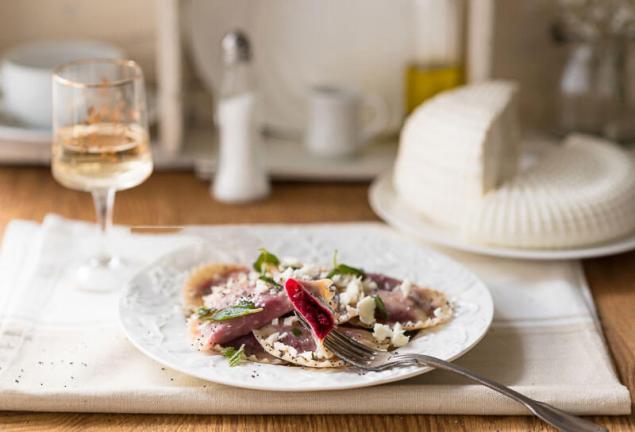 Boil salted water in a deep frying pan. Dumplings better not cook in a deep saucepan, and low, because they are quite gentle, and bubbling water to stick them.
Lower the dumplings into the boiling water, gently stir, wait until the float and cook for 3-4 minutes until tender.
At this time, in the frying pan butter, to give it the leaves of sage and fry them 30 seconds to crisp and remove from heat.
Ready to get dumplings with a slotted spoon, place on a plate and pour the sage butter. Sprinkle with poppy seeds and crumbled homemade cheese brine.published  
P. S. And remember, only by changing their consumption — together we change the world! ©
Join us in Facebook , Vkontakte, Odnoklassniki
Source: zveruska.livejournal.com/146287.html