Apple season is in full swing, and I attended to the problem, something tasty to make. How about a favorite pie of Marina Tsvetaeva? Oat cream puffs? And maybe, amazing baked Apple?! Before you 3 super useful low-calorie dessert that you can eat endlessly.Baked apples with almonds, cranberries and медом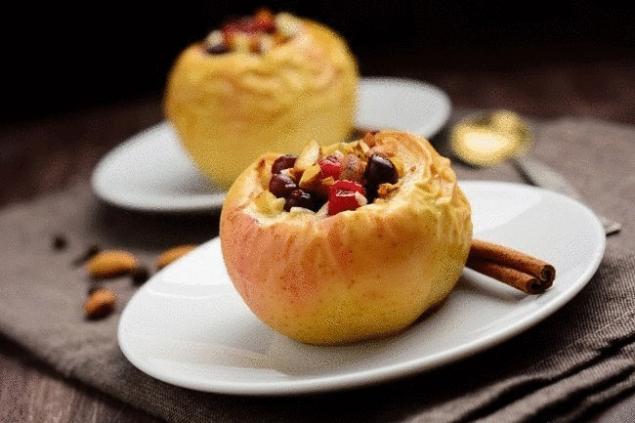 Baked apples preserves maximum nutrients, vitamins and minerals. Moreover, baked apples with cinnamon improve the metabolic processes in the body, tighten the skin and help to lose weight. And so they become even tastier and more useful, I prepared a stuffing of oatmeal, almond and cranberry. Boost your vitamins and stay healthy!
A RECIPE FOR BAKED APPLES WITH ALMONDS, CRANBERRIES AND HONEY
Need:
4 large apples
4 tbsp rolled oats
4 tsp fresh or frozen cranberries
4 tbsp honey
a handful of almonds
2 tsp cinnamon
1/2 Cup water
How to cook:
1. Heat the oven to 180°C.
2. With a knife remove the core from apples, making a hollow for the filling.
3. Oatmeal mixed with cinnamon and fry on a dry pan for 3-5 minutes, stirring constantly. Appear a pleasant nutty flavor.
4. Fill the apples with a mixture of oatmeal, coarsely chopped almonds and cranberries.
5. Move the apples in the baking dish. On the bottom of the form pour water, apples, pour honey. Put in the oven for 30-35 minutes. Apples will be soft and slightly darken and at the bottom of the mold forms a thick syrup.
6. Serve the apples, basting with syrup.
Tsvetayeva's Apple пирог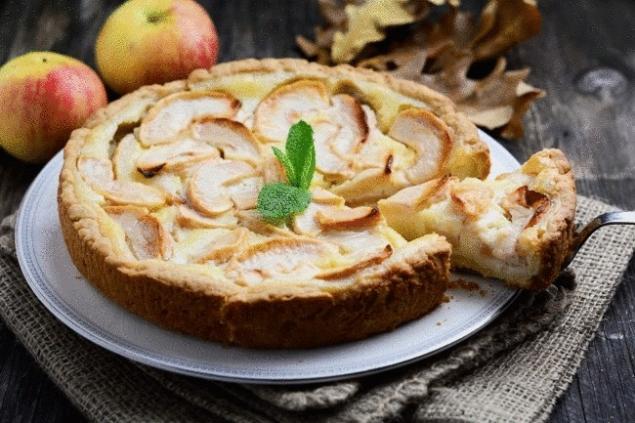 Undoubtedly, this is most delicious Apple pie I've ever tasted. A creamy Apple filling with a slight acidity, crisp dough and the wonderful smell of cinnamon, the famous poet knew a lot about the desserts! I recommend to drink warm.
RECIPE Tsvetayeva's APPLE Pregateste:
100 g butter
70 g of sour cream 20%
160 g flour
1 teaspoon baking powder
1 tsp sugar
a pinch of salt
Filling:
3 medium-sized Apple (preferably use Antonovka)
200 g of sour cream 20%
200 g of sugar
1 egg
1 tbsp flour
1 tsp cinnamon
How to cook:
1. Heat the oven to 180°C.
2. Melt the butter and mix with sour cream. Add the flour, sifted with baking powder, sugar and salt.
3. Knead the soft homogeneous dough.
4. Form for baking vystelit foil, spread the dough evenly along the bottom to form bumpers. Let cool for 10-15 minutes.
5. For the filling, peel the apples peel and cut into slices. In a bowl, combine the sour cream with the sugar, flour and egg. Whisk until smooth. Add the cinnamon and stir.
6. For chilled dough to put apples and pour sour cream. Put in the oven for 45-50 minutes. Top of cake should be brown.
7. Cool 10-15 minutes in pan, then remove cake from the edge of the parchment.
Oat tarts with cottage cheese-Apple cream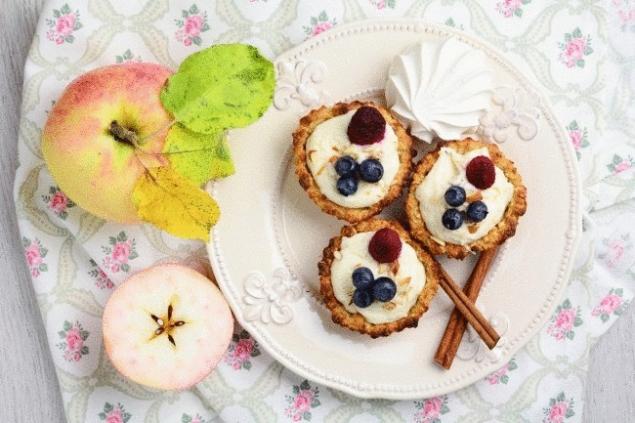 And this dessert – a godsend for those who want to eat something and lose weight. Oatmeal, or rather they contained fiber, positively affect digestion, the cream cheese is a complete protein, which will accelerate the metabolism, the absence in the composition of pure refined sugar, I think, and not worth talking about. In short, the tale, not the recipe!
RECIPE OAT BASKETS WITH CHEESE-APPLE CREAM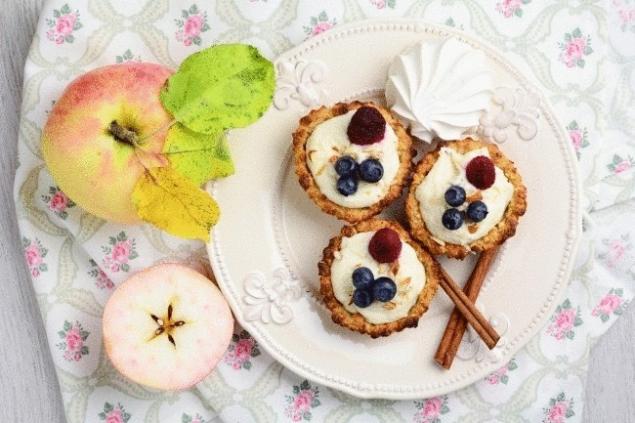 Need:
Dough:
1/3 Cup small rolled oats
2 tbsp. wheat (or corn) flour
0.5 teaspoon baking powder
1 tbsp honey
3-4 tbsp sour cream (or natural yogurt)
0,5 tsp cinnamon
Filling:
100 g spreadable cheese 9%
2 pieces of marshmallow
1 large Apple
1 tsp. honey
How to cook:
1. The oven is heated to 180°C.
2. Mix oatmeal, flour, baking powder and cinnamon.
3. Add the honey and sour cream, knead homogeneous dough.
4. Spread the dough in silicone molds to form bumpers.
5. Bake for 10-15 minutes until Browning. Cool on a wire rack.
6. For the filling, simultaneously with the baskets bake in the oven Apple, remove the skin and mash the flesh into a puree.
7. Add crumbled to pieces, marshmallows and warm up in the microwave or in a water bath for another 40-60 seconds to dissolve the marshmallows.
8. Add cottage cheese, honey and whisk until fluffy.
9. Baskets filled with cream and allow to cool in the fridge.
Before serving, decorate with fruit and berries.
Source: domashniy.ru/