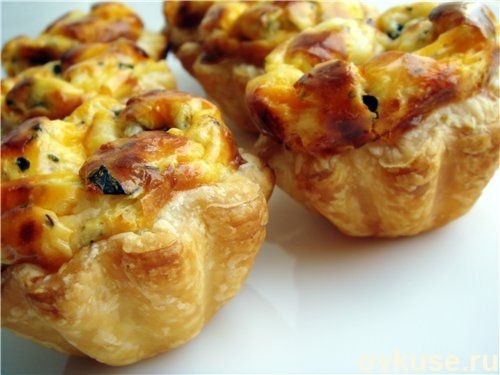 Cheese (the harder the better) - 8 slice.
Potatoes (in their skins; can be mashed) - 2 pcs
Mushrooms - 6 pcs
Onion (small) - 1 pc
Sour cream or mayonnaise - 4 tsp
Of the above product was obtained about 4tartaletki. Keep this in mind! Fillings can be very diverse - pickled cucumbers, beef, fish, potatoes, onions, mushrooms, chicken, ham ... Fantasy cooking, as you know, knows no bounds !!!  
So, cook the potatoes and mash, but not zhidkoe.Zatem fry finely chopped mushrooms and onions until tender. The harder the cheese, the better - then it will be easier to remove the tarts from the molds.
In molds for cakes laid slices of cheese, if there is room, add more small pieces.
Mix the potatoes with mushrooms, onions and mayonnaise and put on a few spoonfuls of the filling on top of the cheese. And put another slice of cheese on a small upstairs.
Now send in preheated oven for 10-15 minutes, until the cheese melts.
Ready "baskets" Let cool for sure! Is removed from the molds and decorate with greenery at will!