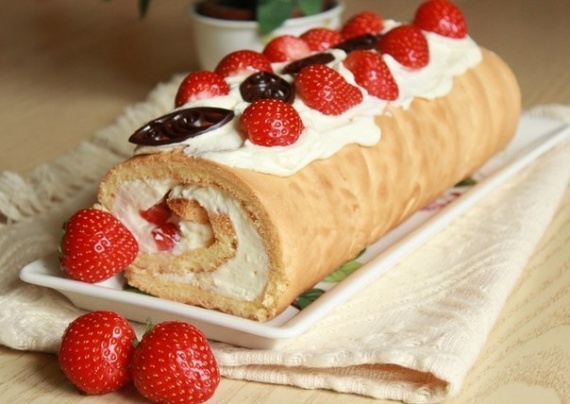 Preparation:
1. For the cream chocolate chop, put in a saucepan with 150 ml of cream and melt over low heat, stirring occasionally. Then cool.
2. Beat 200 ml cream with sah. powder and thickener for cream. Gradually add the cooled mixture with white chocolate. Ready cream put into the refrigerator for 30 minutes.
3. For the dough whisk whites, gradually adding 2 tbsp. spoons of sugar and a pinch of salt.
4. Whip egg yolks with the remaining sugar and vanilla. Without stopping beating, gradually pour in the oil. Gently stir the mixture to yolk protein mass. Gradually add flour mixed with baking powder.
5. Baking (36h28 cm) to lay a parchment that oiled. Carefully lay out the dough preparation.
6. Bake in a preheated 180 ° C oven for 15 - 20 minutes until golden brown. Baked layer cover with a kitchen towel, quickly flip and remove the parchment.
7. Gently fold more hot reservoir to roll with a towel. Leave to cool. Strawberries cut into small cubes (leave a few berries for decoration).
8. The cooled roll drill, fluff cream (leave some for decoration). On the cream evenly put strawberries. Close to roll. Edge trim.
9. Ready roll grease remaining cream and garnish with strawberries and chocolate chips.
Serve chilled.