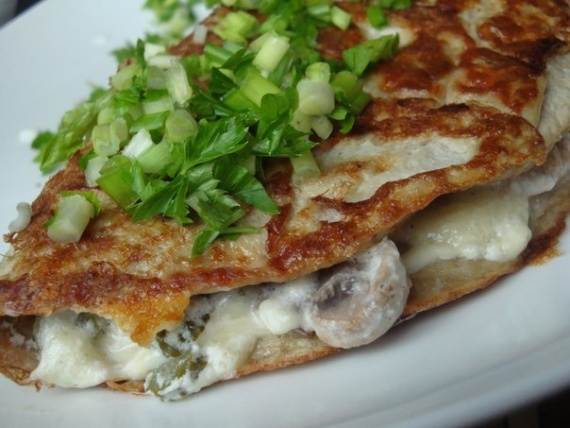 Preparation:
1. In a blender Put the minced meat, eggs, milk, salt, pepper and 1 tsp oil grows. Stir until smooth
Pour the mixture into the pan with a little oil grows. Fry under the lid a few minutes on medium-low heat. Then flip, fry for another minute or two.
2. In the meantime, fried, cut the mushrooms and fry them a little. We spread in a bowl, cut into strips to the same cucumber, cheese (I have a type of mozzarella, but what can you want), sour cream, mustard, chopped garlic and stir. The stuffing is ready! On request, there can add ham.
3. On one half of the "pancake" Put the stuffing, cover the second half, close the lid and not through a full minute off. When submitting generously sprinkle with chopped green onions and parsley