It so happens that childhood memories away somewhere deep in the background. And then, one day, under some random circumstances subside the waves of short-term memory, revealing something vaguely familiar, important but forgotten. So the other day happened. We bought a young cabbage, took off her top loose leaves and put them in the fridge for stuffed cabbage. In the morning it turned out that ideas about the filling for these stuffed cabbage there. You do not want meat, vegetables with some steamed carrots too, bulgur over. While the cabbage leaves are smooth, lovely, sin doesn't do them justice.
Gaze fell on the potatoes, and the memory suddenly began to unwind a ball of memories — Christmas Eve, the festive mood, cut out paper snowflakes on the Windows, we Mac rubs to corner in an earthenware bowl, grandma makes small cabbage rolls and stacks them tightly to each other in the pan. But there is still the dumplings, fried fish, a total of 12 meatless dishes representing the number of apostles. Here it is, inspiration – cabbage rolls!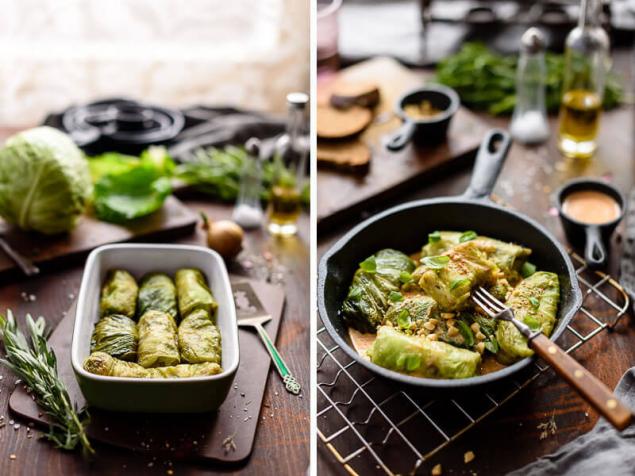 Stuffed cabbage on Christmas eve made with grated potatoes and fried onions and they were delicious in hot or cold. Although it's not winter and not Christmas Eve, but the vegetable dish is very handy. A little advanced for our taste, but still so familiar and traditional.
So take the cabbage leaves, drop them in boiling water and wait a few minutes...
Ingredients:
The top 8-10 cabbage leaves
3 large potatoes (better not darkening varieties)
1 onion
2-3 pen green onions
2-3 sprigs of dill, cilantro or tarragon (optional)
2 tbsp vegetable oil
2-3 Bay leaves
salt
How to cook:
Bring to boil water in a pot, to put there cabbage leaves and cook for 2-3 minutes, then remove the cabbage and drain off the water. A sharp knife to cut the hard protruding ribs of the base sheet, lightly beat the vein with a wooden hammer to impart plasticity.
Peel the onion, finely chop it and fry in a hot pan in 1 tbsp oil until Golden brown. Chop the spring onion finely and set aside.
Potatoes wash, peel, grate on a fine grater. Gently squeeze the liquid, add salt, fried and green onions.
Molded cabbage rolls, spreading 1 tbsp. l with the top of the filling on the thick part of the sheet, and roll tight envelopes. Cabbage rolls tightly lay seam side down on a heated pan with 1 tbsp oil and lightly fry on medium heat on one side.
Pour into the pan of boiling water so that the cabbage rolls were almost covered, season with salt, add 2-3 Bay leaf, bring to a boil, reduce heat, cover with a lid and cook 20-30 minutes until tender. If the water boils, add it at the end of cooking should remain a little liquid.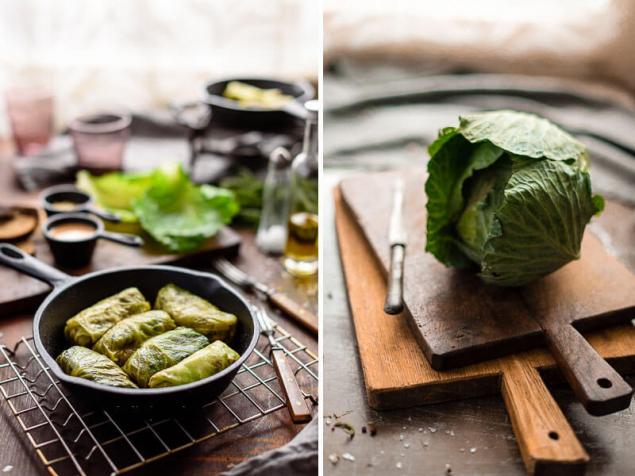 A few tricks.
Sometimes the potatoes add 1-2 tbsp of semolina, if the filling is watery.
If the potatoes got darkening varieties, grated, you can add 1-2 tbsp of sour cream to the filling is not blackened.
Traditionally, such make cabbage rolls mushroom gravy, and if not fasting, you can make fried bacon or bacon, and potatoes also add these aromatic fried skwarecki. And served, watering sour cream, mmm).
And we decided to make the gravy non-traditional, Thai-style, but still lean.
Curry coconut milk
70 g red curry paste
1 tbsp vegetable oil
400 ml coconut milk
100 ml of water
2-3 kafir lime leaf
1 tsp fish sauce
1 tbsp honey
salt
for feeding peanuts and herbs
How to cook:
Heat in a pan the oil, add
the curry paste,
sauté it, stirring, for 2-3 minutes. Pour water, stir, add the coconut milk, honey, fish sauce, kafir lime leaves, it needs more salt if necessary and cook on slow fire for 4-5 minutes. At this time preheat to 180 degrees oven.
Pour
the prepared stuffed cabbage
with hot sauce and put on 5-7 minutes in the oven. Sprinkle when serving, chopped roasted peanuts and greens.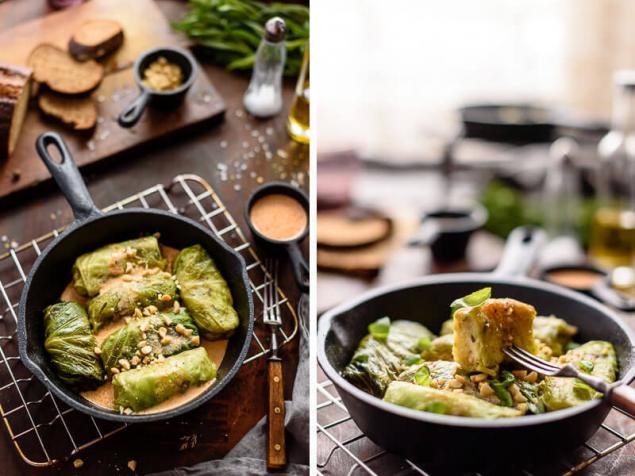 Cook with love!    
P. S. And remember, only by changing their consumption — together we change the world! ©
Join us in Facebook , Vkontakte, Odnoklassniki
Source: zveruska.livejournal.com/163864.html