Stuffed cabbage is considered to be the second dish, but it will not prevent him to become the main on your Desk! With these recipes you will be convinced that stuffed cabbage can and should add flavor! And not just one.
These amazing recipes help me to cook
the best dish of cabbage
that have ever had all my relatives, including my mother...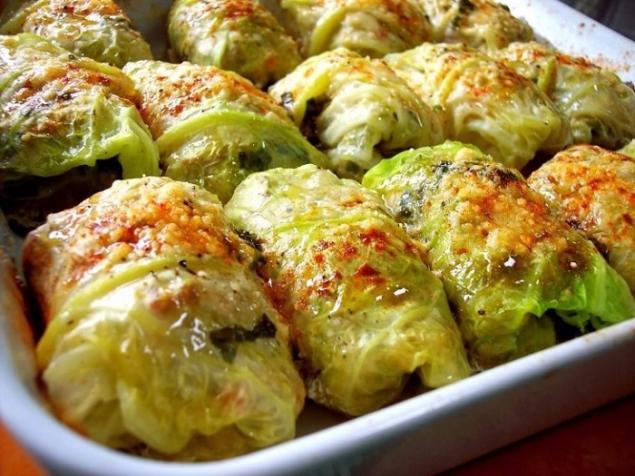 How to cook cabbage rolls
, Classic cabbage rolls
Ingredients
600 g veal mince
100 grams of rice
300 g white cabbage
100 g onions
3 eggs
400 g of sour cream (15 % fat)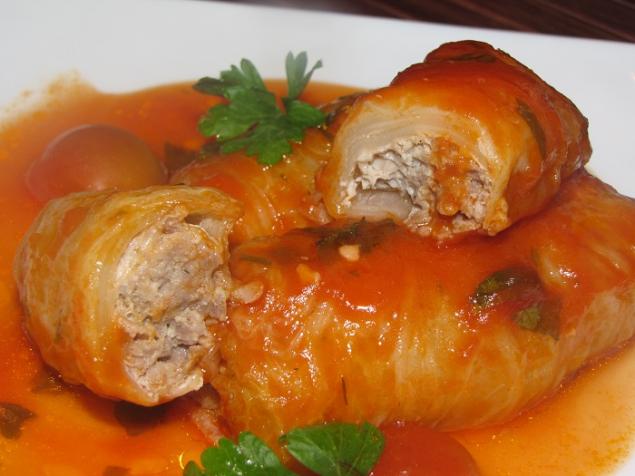 Cooking
Boil cabbage leaves in boiling water for a few minutes, so they can be minimized.
Mix the minced meat with rice, chopped onions and boiled eggs. Add salt and pepper to taste.
Plump stuffing wrapped in leaves and put on a greased baking sheet. Be sure to put sour cream stacked cabbage rolls!
Bake them at 180 degrees for about 1 hour (until the sour cream is not browned).
Ready!
Cabbage rolls with mushrooms
Ingredients
1 head of cabbage
1 onion
1 carrot
300 g mushrooms
500 g minced meat
50 g cream
1 tbsp. vegetable broth
2 tbsp. honey
4 tbsp soy sauce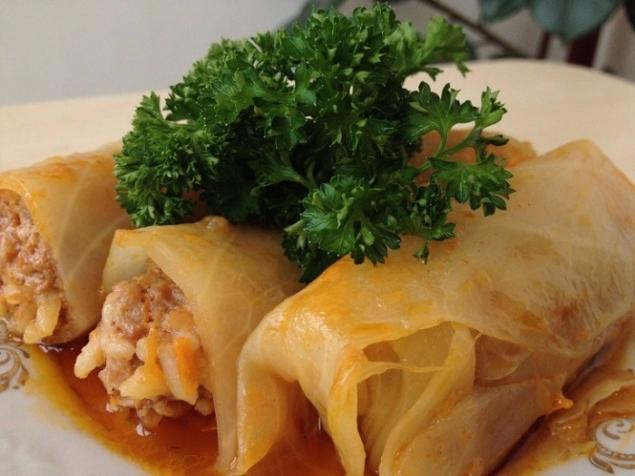 Cooking
For starters get rid of the stumps. After that you can start otwarcie cabbage. While the cabbage boiled in salted water, take off his limp leaves alternately, cutting too thick veins.
Fry in vegetable oil chopped onion, chopped mushrooms and carrots until Golden brown. Add cream, salt and pepper. For flavor you can throw some parsley or dill before you add the beef and a little broth. Salt, pepper and minced vimesy.
Put the stuffing on the cabbage leaves and fold them envelope. Now, tightly pack the cabbage rolls into the form and pour the vegetable stock in half. Before you send the pan in the oven, brush each stuffed with a mixture of soy sauce and honey. This original dressing will discourage the cabbage smell!
Bake at 200 degrees, turning occasionally and lubricating sauce! Baking takes more than an hour.
Cabbage rolls Chinese cabbage
This recipe is special to him you will need less time, because the stuffed cabbage Chinese cabbage are very tender and prepared in a jiffy! Cook
cabbage rolls in tomato sauce
— will not lose.
Ingredients
700 g of minced meat
200 g of a mixture of four types of rice
1 head Chinese cabbage
1 carrot
1 onion
1 sweet pepper
2 tbsp cumin
3 large cloves of garlic
dill, parsley, green onions
salt, pepper
Sauce:
Ingredients
500 ml of tomato juice
2 tbsp tomato paste
1 tablespoon of sugar
4 tbsp soy sauce
ground pepper
salt, pepper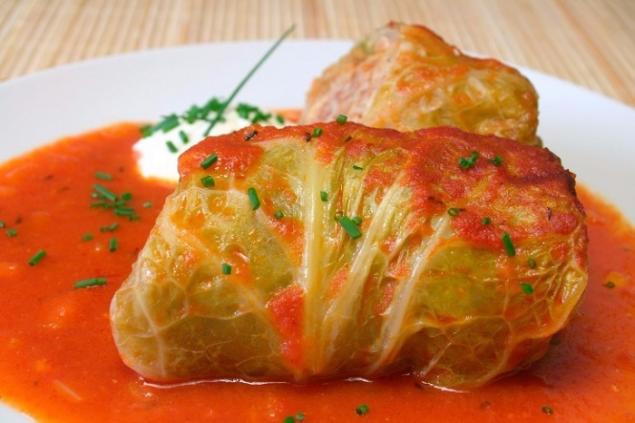 Cooking
First prepare the sauce. You just need to mix all ingredients and warm slightly over the fire. If you want something spicy, a pinch of red pepper will be just right!
Disassemble the cabbage into cabbage leaves and bake in the microwave for 3-4 minutes so that they become lethargic. After that, get sheets and carefully cut with a knife the thick veins.
Prepare the filling. Put 200 grams of rice boil until soft (use a little water). Carrots and onions fry in vegetable oil until Golden color. Add to the minced rice, fried onion and carrot, sweet pepper, greens, garlic and cumin. For refinement you can sprinkle a small pinch of nutmeg.
Put the mince and spoon into the leaves and pull them starting from the thin edge. Put the cabbage rolls in deep pot, pour tomato sauce and send in the oven for 40 minutes at 220 degrees. You will not forget this taste!
Stuffed with cheese
Ingredients
1 head of cabbage
200 g rice
100 grams of cheese
1 onion
1 carrot
1 Apple
2 tomatoes
3 tbsp mayonnaise
3 cloves of garlic
dill, parsley
salt, pepper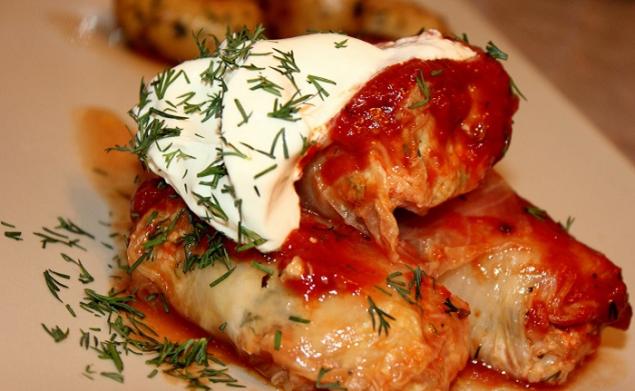 Cooking
Cabbage leaves send in the microwave for 5 minutes.
For the filling, boil the rice until soft. While the rice is cooking, sauté the onions and carrots. Mix all together and add coarsely grated Apple.
Slice the tomatoes, RUB cheese and mix in a separate bowl with the mayonnaise, herbs, salt and pepper to taste. This mixture will be our highlight.
Tighten the cabbage rolls and put on greased baking sheet. Now put stuffed with our mixture and put in the oven for an hour at a temperature of 180-200 degrees.
Enjoy the cabbage rolls and cheese!
Lazy cabbage rolls
Sometimes
cooking cabbage
takes a long time, namely, preparation of cabbage and wrapping the filling. Well, we have the option for those who like to eat out and leave a little time to rest!
Ingredients
400 g minced meat
70 g of rice
1 small head of cabbage
5 tbsp tomato paste
200 g sour cream
10 tablespoons breadcrumbs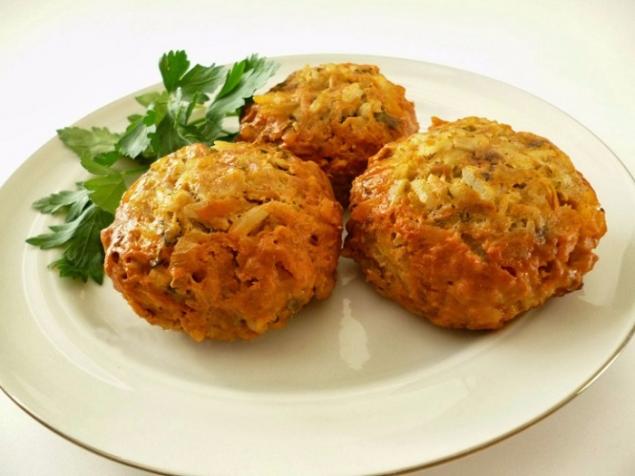 Cooking
Slice the cabbage finely and pour boiling water for 3 minutes to soften.
Let the meat and onions through a meat grinder.
A third of a Cup of rice take a Cup of water and boil it in salted water. When the rice is ready, drain excess liquid (use a colander).
Mix meat, rice and cabbage. Salt and pepper to taste!
Start sculpting cakes. The resulting duckies obvalivat in breadcrumbs and fry in a skillet for 2-3 minutes.
And while the first batch of lazy cabbage roasting, prepare the tomato sauce! Just mix sour cream and tomato paste adding 1 tablespoon of water, pinch of salt and pepper.
Lay the cabbage rolls on a greased baking sheet and carefully pour in the sauce. Almost ready! Just leave them in the oven for 45 minutes at a temperature of 180-200 degrees.
Dinner is served!
I really want to cook a
delicious stuffed cabbage
from cabbage leaves, but time is running out? We know how to prepare leaves for stuffed cabbage, get to know you! Share these wonderful recipes and don't be afraid to experiment!
The author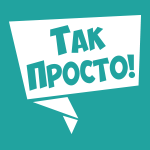 The editors of "Site" Is a real creative laboratory! The true team of associates, each a specialist in their field, United by a common purpose: to help people. We create content that's really worth sharing, and a source of inexhaustible inspiration are our favorite readers!