The advantages and disadvantages of glass greenhouses
Glass greenhouses have one important feature is to support the necessary microclimate for vegetables, herbs and flowers. Growing crops in a glass greenhouse, you get much more harvest and not 1 time per season!
Glass greenhouse is a classic among the greenhouses many gardeners choose them because of the following advantages:  
Greenhouses made of glass can last a very long time.


All plants feed on sunlight, which is necessary for good and rapid growth, and the glass well transmit ultraviolet rays, providing the plants are maturing rapidly.


Glass is very easy to clean from dirt and can not deteriorate over time.


Broken glass can easily be replaced.


A good insulation.


For greenhouses, you can use a cheap and used glass, which is not inferior to the new.


Have a greenhouse structure made of glass, there are a number of small flaws that should be considered before beginning construction:
For greenhouses from the glass material should do a solid Foundation and sturdy frame;


Glass is a brittle material and it's very easy to damage, so in times of falling hail, it may crack or break;


The glass sheet is rather heavy, because of this to build to do the Foundation and additional supporting structures of occupying too much space;


Glass is highly transparent to heat, in hot days — temperature in the greenhouse greatly increases, which may be detrimental to some plants;


Greenhouse glass is constructed in the form of a house, other design options are not suitable.


Even with these disadvantages of glass greenhouses are the best option, and to this day they erect in their yard many growers, as they have significant advantages in contrast to greenhouses made from other materials.  
How to choose a greenhouse made of glass?
The choice of a glass greenhouse should be approached with great care, because this building should last you for 1 year. Nowadays there are a huge number of companies offering to buy ready-made greenhouses are made of glass, but how to choose and what to pay attention? If you have decided to buy a greenhouse, then, of course, you want it was made of quality materials and fell apart after a season, so the first thing you should pay attention to the frame that needs to be made of solid steel or wood! Glass sizes depend on frame construction, but the optimal thickness of glass should be 4 mm or less.
It is important to remember! When buying the greenhouse in a little-known firm, check the design carefully! Many unscrupulous manufacturers want to save on quality. And don't forget — glass greenhouse is placed only on a solid Foundation, preferably of brick or concrete.  
Greenhouse glass with their hands
For those who agree with the expression "if you want something done right, do it yourself" and have at least a small knowledge of construction, the construction of a greenhouse at their summer cottage without any problems and will save a lot of money.
We invite you to consider the most economical option built glass greenhouses, consisting entirely of window frames. Material for construction can be found in large numbers near the landfill, as every day many people put themselves in the homes of new Windows, and the old discarded. Just a couple of trips to the dump and you will have enough material for building a greenhouse of glass.
Now you need to deal with the construction of the Foundation and frame, then we can safely collect the greenhouse of window frames using screws, cement, construction foam and silicone sealant, and all necessary tools for construction.
For glass greenhouses a good Foundation is wood (timber 10x10 cm). Before building the Foundation necessary to remove a fertile layer of earth and, if need be, to seal following layer of the earth. Then you must do the following work in the following order:
The prepared soil is placed a layer of gravel (you can use sand) and filled with cement to 15-20 cm;


The resulting cement is fully laid with stones or bricks and again filled with cement;


Cement placed bricks or stones, but tightly, to be seen of the bottom row


On the resulting design is spread of 2 — 3 layer waterproofing roofing material.


The next step in construction is to prepare the window frames. They must remove all handles, hinges, cleaned and treated with antiseptic. If the window frames will be attached to the frame with nails, then, before installation, care should be taken to expose all the glass. Do not forget to carefully seal all vents in the Windows, which will not be used.
After you have prepared the window frame, take the floor. The depth of the floor in a greenhouse should be at least 20 cm, and its base is leveled and compacted. For durability you can fill tamped the ground with concrete. Then fill the prepared base of gravel. A gravel cover with a plastic barrier from moisture and growth of weeds. Fill plastic sand 10-15 cm and well we stamp. On hard-Packed sand lay bricks (very close to each other) and again fall asleep sand.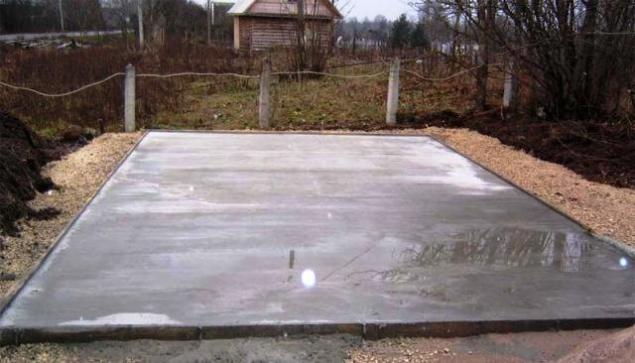 As soon as figured out with the floor, begin to erect the frame. For the frame fit hardwood boards, size 50x50 mm. This thickness is ideal because most of the window frames that is this thickness, this allows the window frames to cuddle up the whole plane. Each frame consists of 3 elements: the top and bottom rail and uprights. The bottom rail is made from 2 boards. For greenhouse glass from the window frames need to do the gable roof. The walls in a greenhouse should be at least 175 cm height of the greenhouse depends on the angle of slopes. Before the construction of the wall in the greenhouse is necessary to initially make the vertical struts at the base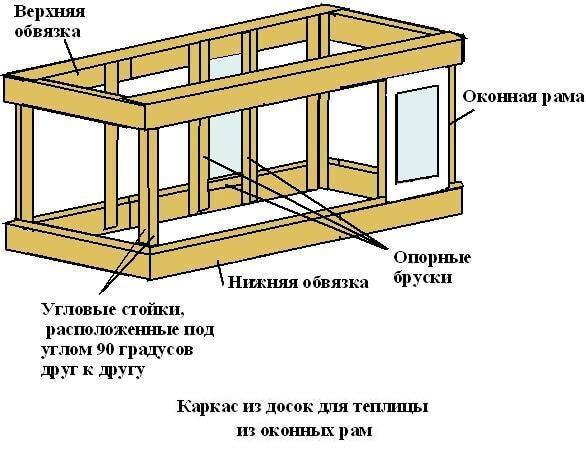 After the construction of the frame is nailed or screwed on the screws of the window frame. If you decided to work with nails, they will have to beat as often as possible for strength. The roof can be covered with a film or polycarbonate Windows (remember, if the roof is completely transparent, overheating in the greenhouse can not be avoided).
So the greenhouse is ready. It may be unattractive, but it will last you definitely longer than other greenhouses of plastic and other material, despite the fact that you almost didn't spend on her. published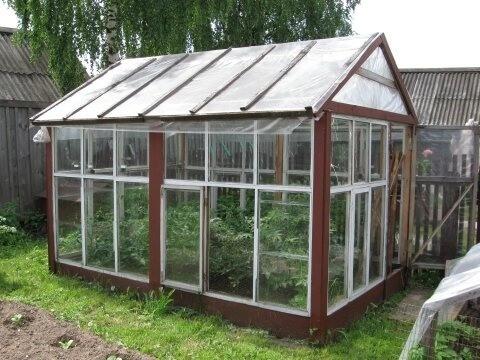 P. S. And remember, only by changing their consumption — together we change the world! ©
Join us in Facebook , Vkontakte, Odnoklassniki  
Source: www.7dach.ru/diegos/steklyannaya-teplica-svoimi-rukami-1384.html?image=00%2F92%2F79%2F2013%2F05%2F20%2F643fd2.jpg&title=%D0%9A%D0%B0%D1%80%D0%BA%D0%B0%D1%81%20%D0%B4%D0%BB%D1%8F%20%D1%82%D0%B5%D0%BF%D0%BB%D0%B8%D1%86%D1%8B#bigimage