Garlic is the garden practically every garden. Of course! Garlic has many vitamins, it is necessary for salting, and many meals without it would not have its appeal. What do we know about the garlic?
What is the difference between winter and spring garlic?
Garlic is winter and spring. At first glance both have absolutely similar structure: head, roots, stem, leaves... But really the differences are significant.
Winter varieties have a single row of large teeth, and spring a few rows, but smaller.
Winter can be planted in the spring and, more properly, in the fall (if spring planting, he has no time to be divided into teeth), spring planted exclusively in the spring and yields a harvest in the same year.
Winter garlic is more visual, spring is best stored.
If you disassemble bulbs of winter garlic cloves, you will find that inside it there is the rest of the arrow (a rod), around which are arranged chesnochenko, but the spring garlic this rod is not, as it is not Strelets.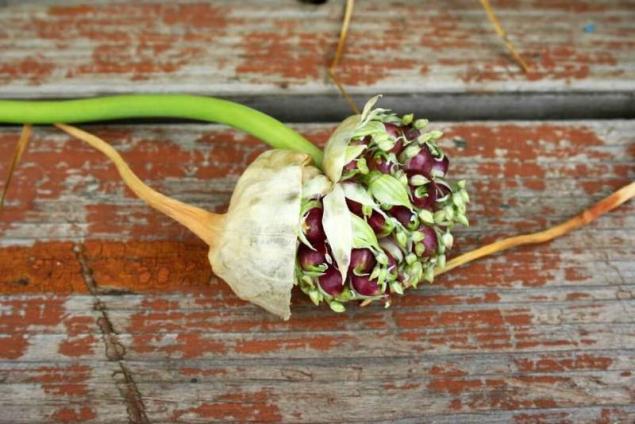 Why winter garlic strelkovtsy?
What strelyatsya winter garlic? But in order to have more seed for breeding, because his bulb is formed around 4 to 10 cloves, but this is clearly not enough in order to fit to leave on the table to save, but bullock (aerial bulblets) on one arrow lays from 20 to 100 pieces.
In addition, the formation of aerial bulbils ensures the preservation of the grade of garlic, you can take healthy planting material, to grow more fully and highly resistant to diseases and pests harvest.
Unfortunately, many gardeners-fans disregard the method of reproduction of winter garlic through bullock, and it is in vain. This culture tends to shrink with age, so it needs to rejuvenate at least once every 5 or better 3 years.
And there's nothing better than harvested on their own garden seed material belonging to the favorite variety.How to grow bullocky?
Growing garlic from bullock to full bulbs usually takes two years.
However, there are cases where in the first year sets forms a rather large onion-odnosov, ready to eat. In taste and content of nutrients, it is not inferior to the biennial, but if the goal is reproduction, it is better to be patient and to grow from the air tecnocino good planting material, much of it to grow the crops for the table.
For growing sets there are two ways.
The first consists of the planting of bulboac a winter. However, frost is a fair run of young garlic, partly because of the cold weather, partly due to pushing on the surface of the frozen ground. Therefore, a less risky method is the second method of spring planting.
To
save the seed until spring,
aerial bulblets are Packed in newspaper and hiding in a dry, dark place with stable temperatures from +18 to +20°C. But for a month and a half before landing (around February) shift in a cellar or refrigerator, or placed in a cloth bag and dropped into the snow, to withstand some time at a temperature from 0 to + 4°C. This gives you the opportunity sulbactam to undergo a period of stratification, ensures the maturation of tissues to germinate and give a kind of impetus to the beginning of the growing season.
Then chesnochenko dried, ventilated and disinfected in a light solution of manganese, and only then planted in the beds to a depth of 3 to 4 cm, with a distance of 3 cm from each other arcs forming rows every 15 cm.
After the seed material is placed in the hole, the top layer of the beds thoroughly tamped and covered with a mulch. This provides good adhesion of seeds with soil, provoking more harmonious growth, and allows you to keep the ground moisture, which is essential for germination.
However, you must remember that
garlic is not planted in the same place for several years
, as it contributes to the accumulation of disease, and should not be placed on the predecessors, adversely affecting the crop (after onions, cucumbers, carrots), and
better positioned after the tomatoes, peas, early cabbage or cauliflower
.
When to collect the grown bullocki?
Time to gather the grown bullocki comes in early August. A clear indication that the term is yellowed foliage of garlic. However, it is not necessary to wait, when the leaves will dry up completely, as if the aerial part wither away – obrazovky will be difficult to find in the ground.
Collecting the harvest, you must remember that
dug garlic in no case be left in the sun
, as recommended in the notes of many gardeners, as this culture has the ability to "STEKLONiT" in direct sunlight, and it greatly reduces the quality of garlic. Drying of odnosov (and biennial bulbs) must occur in the shade, in a well-ventilated place.
Once the outer husk is dry, planting material can be linked into bundles and hang in the barn or in the attic. Fall garlic-odnesuva ready for planting in the main winter planting.published  
P. S. And remember, only by changing their consumption — together we change the world! ©
Join us in Facebook , Vkontakte, Odnoklassniki
Source: vk.com/aidacha?w=wall-41002749_33680