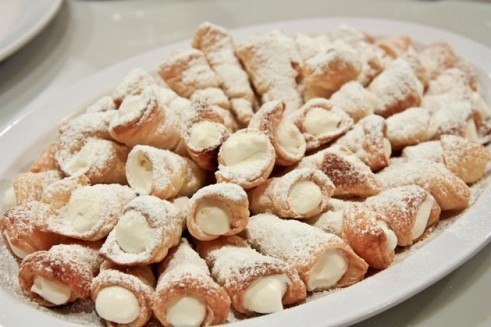 Ingredients:
Puff pastry
For the cream:
Cold cream from the jar - 225g
Cream cheese - 110 g
Sugar - 3 tablespoons
Lemon juice - 2 tablespoons
Condensed milk - ¼ cup (optional for extra sweetness)
Preparation:
Heat oven to 200 degrees.
Roll out the dough sheet, while the second hold in the freezer. Pizza knife cut the dough into 30 equal strips.
Tighten each strip around the molds - cone.
Set the molds with the dough on a baking sheet and bake until golden brown, 12 minutes. Completely cool before stuffing cream.
Cream:
Beat with a mixer cream the cream with the sugar. Add the lemon juice and cream. Whisk until smooth sufficiently stable weight.
Start a cream tubes. Put them in a dish, sprinkle with powdered sugar and serve.