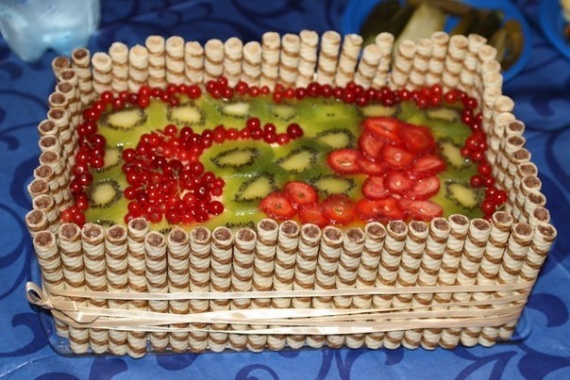 Ingredients ::
 - 2 cups sugar
 - 200 grams of margarine
 - 4 eggs
 - 1 tsp. Baking soda
 - Flour
 - Fruit for decoration
 - Tubes
 - A band of
 - Jelly cake
for the custard: a glass of milk, 2 cups sugar, 4 eggs, oil pack
Oil cream: floor banks condensed milk, a pack of butter
Preparation:
Mix in a saucepan sugar, margarine and eggs. In a water bath, stirring constantly, bring to dissolve the sugar. Add soda and bring to a boil stirring constantly to kamforke. Remove from heat, add 2, 5 cups of flour and leave to cool for an hour. Add 1-2 cups of flour (how many will take the dough) and knead.
Lubricate protven butter, sprinkle with breadcrumbs. Roll out the dough very thinly (I do it once at Protvino, otherwise could not move afterwards) and bake in the preheated oven. Baked just a couple of minutes.
For the custard mix in a saucepan the milk, sugar and eggs. Bring to a boil, and stir ostudat pack of butter.
Oil cream mix oil with condensed milk.
Greased custard cakes, leave for about an hour at room temperature, then put into the fridge to pour cream.
Oblilno coat with butter cream top and sides. Align the tube and fasten them with tape (not to fall off and stuck on a good cream). Put the fruit and pour a little jelly (neatly teaspoon).
I one day to bake a cake and greased custard, the next day was decorated, but only for the next spruce, but we have so the circumstances, and of course you can eat much earlier.