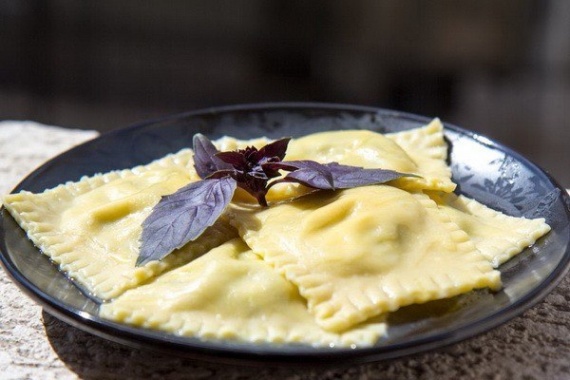 Ingredients:
Dough:
 - 500 g Flour
 - 2 chicken eggs
 - 8 egg yolks
Filling a ¼ of the dough:
 - 150 g ricotta cheese (can substitute low-fat grated cheese)
 - 150 g of fresh spinach (1 large bunch)
 - 2 chicken protein
 - 1/4 tsp nutmeg
 - Salt
 - 50g. Parmesan cheese (optional)
 - Olive oil
Preparation:
In a blender pour the flour and put the eggs and yolks. Mix all at high speed. We get moist crumbs.
Pour them on a board or table and knead the dough elastic. Form a loaf and remove for 30 minutes in the refrigerator.
Prepare the filling. My, were dried and cut spinach. Pripuskayut in a small number ve butter (+ splash in the pan a little vegetable, so butter does not burn). Just a few minutes until the spinach is not reduced in volume. In a bowl, mix the ricotta (cottage cheese), spinach, proteins, nutmeg, salt.
Remove the dough from the refrigerator, divide in half and thinly (really fine) roll on floured surface slightly. Place the dough at regular intervals one tablespoon of the filling on top and cover with the second sheet. Walk your fingers on all sides filling to remove excess air, and cut into individual ravioli. The edges can be decorated with a fork.
Cook the ravioli in boiling water until until they float to the surface, to shift on a plate, sprinkle with olive oil, sprinkle with grated Parmesan cheese (optional) and serve immediately.