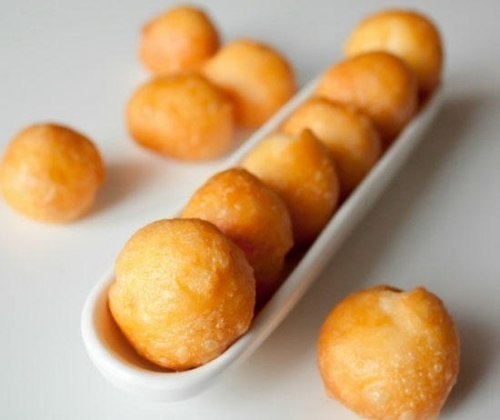 Ingredients (60 pieces):
120 g butter
160 g flour
100g grated parmesan
100 g grated cheese semi
4 eggs
salt to taste
400 ml of vegetable oil for frying
Preparation:
1. Put oil in a pan, salt and pepper. Pour 250 ml of water. Set on fire and hold until the butter has melted. Remove from the heat and interfere with flour. Return on the burner and keep the fire, stirring constantly, until the dough is smooth and begins to lag behind the skirting of the pan. Remove from heat.
2. We shift the dough in a bowl, add the cheese and mix well.
3. One by one add the eggs to the batter, mixing well after each.
4.Stavim dough in the refrigerator for 30 minutes. Tests were separated from the cooled 1 tsp and form balls. Put on the laid parchment surface.
5. In a large pot over medium heat, warm up the oil. In 4-5 batches fry cheese balls until cooked and golden brown, 3-5 minutes per batch. Serve immediately.