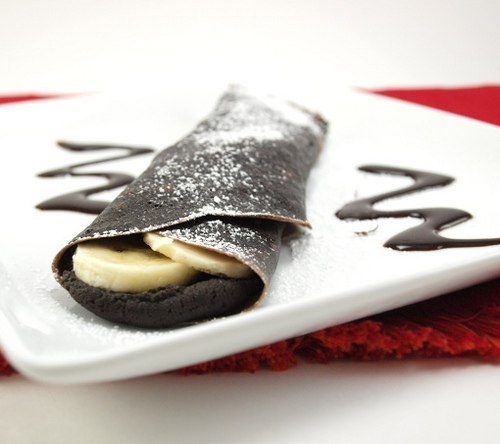 Ingredients:
For the pancakes:
2 tablespoons cocoa
1/2 teaspoon vanilla
2 eggs
85 g flour
30 g butter, melted and cooled
1 tablespoon coffee liqueur
3/4 cup milk
For the filling:
170g mascarpone
1/3 cup powdered sugar
120 ml whipping cream
3 tablespoons cocoa
1 teaspoon vanilla
1 tablespoon coffee liqueur
pinch of salt
3-4 large banana
additional powdered sugar for dusting
Preparation:
Mix cocoa, eggs, vanilla and coffee liqueur in a large bowl until smooth. Stir in the flour and add the butter and stir to avoid lumps left.
In a large saucepan, bring the milk to a boil. 1/4 hot milk into the egg mixture, type, continuing to stir, and gradually pour in the milk and the rest, but see that eggs are not curled. Cool the dough for about 30 minutes.
In a medium bowl, combine mascarpone, cream, powdered sugar, cocoa, vanilla, liquor and salt and mix until smooth.
Chilled dough pancakes fry on both sides until golden brown.
On fried pancakes apply a thin layer of cream, top with thinly sliced ​​banana pancake and twist into a tube. Sprinkle top with powdered sugar.