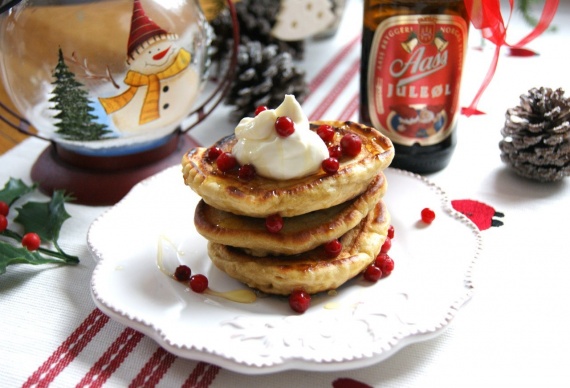 If you suddenly unbearably wanted pancakes, and in the house or yogurt or milk not, then feel free to take a bottle of beer and bake! The result will make you happy, especially if it's Norwegian Christmas beer, with caramel, nuts and Christmas sweets. Norwegians, it turns out, not only drink beer, they also cook the soup with it, and baked bread and cakes.
350 ml flour
2 tsp baking powder
1 teaspoon soda (I took 1/2)
pinch of salt
3 small eggs
1 bottle (0, 33 beers (I have dark, 4, 7%)
1 tbsp honey
2 tbsp melted butter, plus a little cooking
Fat sour cream or whipped cream and cloudberry supply (typically Norwegian version)
I - sour cream, honey and cranberries - in Russian))
Eggs, honey, beer and butter, beat well and pour into a bowl with the dry ingredients. Mix until smooth and give stand 15 minutes Fry pancakes over medium heat on both sides of a greased pan.
God appetitt!