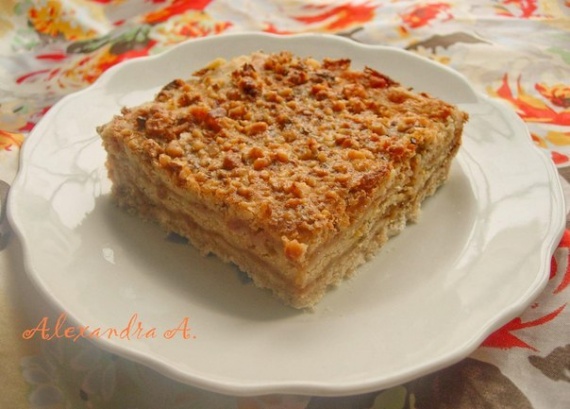 This version of the classic recipe Hungarian apple pie redesigned marina.
Pie characterized by the presence of nuts, less sugar, flour and semolina. This cake I liked more than the previous, it is more crisp, juicy and rich taste.
Pie quick and easy to prepare! I recommend to try! :))
For this cake fit juicy apples that he soaked apple juice.
6-8 apples (depending on size) - clear on the skin and grate (not cleared)
100g sugar (I have brown)
100g semolina
120 g walnuts (dry in the oven, cool and grind in a blender)
90 g flour
20 g of starch
7 g baking powder
1 tsp cinnamon
100g butter (preferably frozen, it will be easier rubbed)
Furthermore, square baking of 20 * 20 cm, baking paper or foil. (I have a form of silicone - neither one nor the other is not needed).
1. Heat oven to 180 degrees. Baking dish with foil or baking vystelit paper and generously grease with butter or vegetable oil is odorless.
2. Mix in a bowl the sugar, flour, semolina, nuts, starch, baking powder and cinnamon. The dry mixture was divided into three equal parts, it is convenient to do with weights.
3. Put the ingredients in the form of layers as follows: dry mixture - apples - a dry mixture - apples - a dry mixture - grated on a coarse grater butter. Each layer (except butter) ram. If grated apples isolated juice - just pour it into the mold. Top can additionally sprinkle crushed nuts.
4. Put the pie in the oven and bake 45-50 minutes. Adjust the baking time for your oven. Top should be golden.