Apple sauce — the perfect complement to pork, duck and goose, as well as pancakes and fritters. Basic recipe for Apple sauce, you can change or add to taste. Now, when the ripening crop of apples, it's time to cook the applesauce and stock up on them for the winter, because it is perfectly preserved in the freezer. In this article — a recipe for an Apple sauce and some ideas on how to cook it.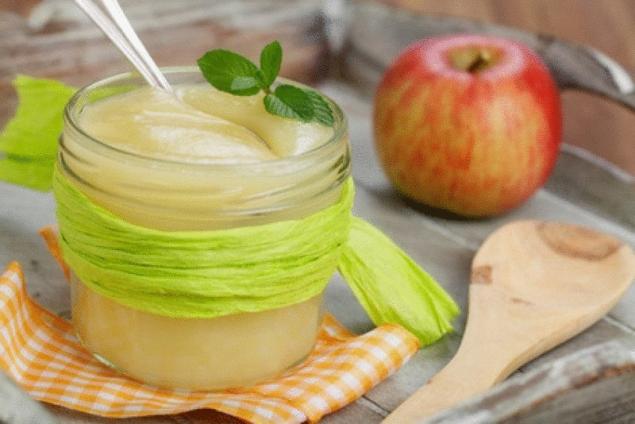 Apple sauce — a traditional dish of European and North American cuisine. In the UK, Apple sauce is usually served baked in the oven pork. We found it curious that in the Netherlands and Belgium applesauce serves literally everything — Apple sauce and mayonnaise bring to the table for a main dish that you ordered. Wikipedia kindly informs us that in Germany Apple sauce is eaten with potato pancakes, as in France — with blood sausage. In Portugal, France and the United States applesauce is still considered as a dessert.
Apple sauce is perfect with French Grengam who love our children for Breakfast. I eat Apple sauce with natural yoghurt — it's delicious, try it! And just to smear Apple sauce on toast or bread with a Cup of tea or coffee — delicious, fast and cool!
Did you know that pureed Apple sauce is an excellent replacement of butter or oil in baking recipes cakes and cupcakes? Replace half of the butter in the recipe for applesauce and you can not tell the finished product is the taste from being cooked only with butter. If you completely replace the oil for Apple sauce, prepared pie or cake is more heavy and wet. Replacing oil with Apple sauce half or full, you can significantly reduce the calorie content of the finished product.
Recipe Apple Sonablate. Better to use a mixture of sour and sweet varieties, or simply sour (cooking) varieties such as Bramley (Bramley). If you only sweet apples, reduce the amount of sugar and/or add in Apple sauce lemon juice, to achieve a piquant, sweet-sour taste.
Sugar. You can take brown (delicious) or white. The amount of sugar is strictly to taste. Again it is better to put very little and add to taste at the end, when the sauce is smooth. You can cook Apple sauce without sugar, and in General, if the sauce is intended for later use in some kind of cooking product.
Water. To add or not to add — again to taste. I like the sauce thicker, so I add just a spoon in the beginning, so the apples do not burn. Some instead of water add Apple juice sauce will be more intense.
Spices. For my taste they are necessary here, if you are going to use the sauce for several different needs. But if you like spice, why not add the cinnamon or cloves?
How to make an Apple soasis apples cut out the middle. Clear whether the apples from the skin — up to you. I personally never do, because the skin contains lots of vitamins and dietary fiber, why deprive yourself of all this? The apples should roughly cut into medium pieces.
Prepared apples put in a pan (preferably in enamel, but I don't have one, so I put in regular stainless steel). Add water (see above) and a couple tablespoons of sugar, cover with a lid, put on the gas. Periodically stir the sauce to the apples evenly prepared. After 15-20 minutes (depending on apples) the apples soften and the sauce will become more homogeneous.
At what stage the sauce will be ready to decide, again, to you. Some people like sauce with chunks of apples in it, and some completely smooth. In the latter case preroute almost ready sauce hand blender.
The sauce is ready put in a nice jar or dish in which you serve. If you are planning to freeze the sauce, then put it into containers for the freezer or in plastic bags zippered portion.
Something to add to the applesauce?Applesauce is good in itself. However, you can visit some products for a more savory taste or color, for example, chokeberry juice (Aronia melanocarpa). Instead of water I added to the apples in the beginning of cooking the juice squeezed from fresh chernoplodku. Lemon juice, as mentioned above, add to Apple sauce for a more piquant sweet-sour taste. Chopped lemon zest can be added for flavor. Tablespoon of butter added to the sauce immediately after cooking, make it a more "velvet".
Source: countrysideliving.net/