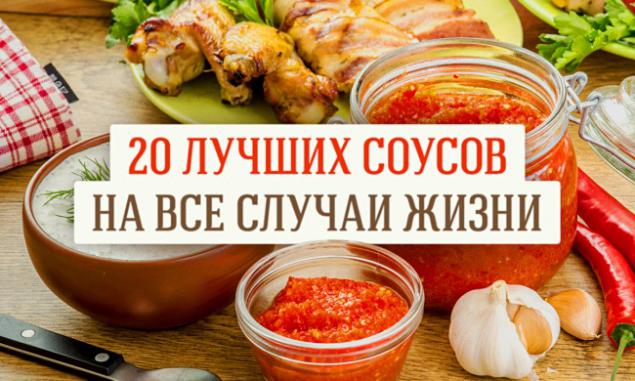 sauce very simple dish becomes difficult. Even tiresome chicken or potatoes will be every time to turn into a delicious dish, if you cook them today - the "salsa" and tomorrow - "bechamel".
Website to collect for you the most delicious and easy to prepare the sauce with ingredients that can be found in the shop.


bechamel h3>






Bechamel - it's a classic and it suits almost everything. Delicate sauce can be put into a paste, to fill their salad, with fish, seafood, vegetables, chicken and turkey and other dishes.

In a pan pour 2 cups of milk and heat (not to boiling). In a deep frying pan melt 3 tablespoons butter, add 2 tablespoons of flour and stir well. Carefully, in small portions, to pour the milk into the pan, stirring vigorously to avoid lumps formed. The sauce boil, stirring, and simmer 1-2 minutes. It should thicken. Season with salt and, if desired, add a pinch of nutmeg, turn off the heat.




Tomato sauce from Italy
- The best seasoning for pasta and pizza h3>






Heat a little olive oil on the bottom of a large pan, add 1 chopped onion and 3 cloves of crushed garlic. Fry for 7-8 minutes. Add 1 tablespoon of oregano, 800 g of chopped canned tomatoes, 2 tablespoons tomato paste and one - sugar. Simmer until the sauce thickens. Then add 4 fresh tomatoes, previously peeled and seeds. Season with prepared sauce with salt and pepper.




Garlic Sauce h3>






This champion of the simplicity of cooking sauces. Finely chop a small bunch of dill without thick stems and slightly primnogo knife blade to highlight the juice. Mix the dill with 250 g of sour cream, to squeeze out the garlic clove (two or three - depending on the strength of your love for the garlic), mix, salt and pepper. The sauce is ready.




creamy mustard sauce - perfect for fish h3>




200 ml cream, 20 percent fat, pour into a saucepan and place on a small fire. Add 1 teaspoon of white mustard and 4 teaspoons Dijon mustard, 2 teaspoons of honey, squeeze the juice of lemon or lime quarters and stir. Mustard seeds and coriander warm dry frying pan to crackle and also put it in the sauce. When it begins to thicken, add the chopped herbs - dill, parsley and any other taste, and remove from heat.




cream cheese sauce
- A great addition to pasta and potatoes h3>



The pot mix 200 g of cream cheese, 10 ml oil, 200 ml of cream. Cook over medium heat until boiling, stirring occasionally. After boiling, reduce the heat and add the seasonings to taste basil and black pepper. Stirring constantly, until the sauce is smooth, add 50g grated fresh cheese.




or tartar tartar sauce h3>





Another very simple and delicious sauce that does not require messing around with a stove. Take 6 tablespoons mayonnaise - is possible in half sour cream and mayonnaise if you do not like, take only the cream. Finely-chopped pickled cucumber and a small bunch of parsley, squeeze the garlic clove and mix with mayonnaise (or sour cream). Season with salt and pepper and place in the refrigerator for an hour. By the way, if you wish, you can add the juice of a lemon quarters, half a spoon of mustard and green onions and capers, if by some miracle were in the refrigerator. This sauce is excellent for meat, poultry, fish, seafood.




honey-mustard sauce
- The best friend chicken h3>





Mix half a cup of mustard, a quarter cup of honey and half a teaspoon of grated ginger. Put briefly in the refrigerator. The sauce is perfect for chicken nuggets, a chicken on the grill and even a chicken in any form.




red wine sauce to the meat h3>





Sauce for vino lovers, although no alcohol in it does not - evaporates in cooking. Heat half tablespoons of olive oil in a frying pan. Add the chopped onions (shallots better, but can be normal) and cook over low heat, stirring occasionally, 7 minutes, until it becomes brown. Add 2 glasses of wine and 175 ml of water and leave to simmer for 10 minutes. Mix 40 g of butter and a tablespoon of flour to a paste. Gradually add it to the pan, stirring well. If you cook the sauce to the meat, add a little meat juice, put the chopped parsley, salt and pepper. If sour, you can add a little sugar.




Mushroom Sauce h3>





200 mushroom and one onion finely chopped, and simmer for 15 minutes under the lid closed to the liquid does not boil over. Add 150 grams of sour cream and simmer for another 5-7 minutes, then put the chopped herbs, if desired - crushed garlic, and turn off. If you want a more uniform consistency, you can grind in a blender. The sauce is very good with potatoes, meat, with dumplings.




BBQ - for grilled dishes h3>





Melt 50 g butter over medium heat, add 1 cup chopped onion, sauté 4-5 minutes. Add 200 ml of ketchup or tomato paste, 0, 3 cups of water, 50 g of honey, 2 tablespoons lemon juice and 1/4 teaspoon pepper. Bring mixture to a boil and cook a few minutes, uncovered, to the sauce is slightly thickened.




Sauce Andalusian h3>





Mix 200 g of mayonnaise, 3 tablespoons ketchup, 1 teaspoon brandy, chopped onion, lemon juice to taste and red pepper. Cover with foil or a lid and put in the fridge for an hour.




Spanish salsa h3>





Grind in a blender 15 cherry tomatoes, 1 clove garlic, 1 bunch of dill and chives. Add 1 teaspoon of balsamic vinegar and 1 tablespoon tomato paste and olive oil. Season with salt and pepper to taste.


Pesto h3>





Beat in a blender 50 g of basil, 2 cloves minced garlic, 50 g parmesan cheese (or other hard cheese), 3 tablespoons pine nuts, 100 ml of olive oil and salt. Pesto is traditionally goes to a paste, but they also fill tasty salads, as a condiment to put in the soup, and even just to smear on bread.




Sweet and sour sauce
- For Chinese dishes and not only h3>





Mix 1, 5 tablespoons sugar, 2 tablespoons vinegar, 1 tablespoon of tomato puree and soy sauce, 3 tablespoons of orange juice. Separately, mix 1 teaspoon of corn flour with 4 tablespoons of water and add to mixture. Put the resulting sauce on fire and bring to a boil, stirring constantly. The sauce can be served on the table to prepare a dish, and you can warm it braised pieces of pork or chicken and received a traditional oriental dishes (well, almost).




Italian dressing for light salads h3>





Mix in the bank 2, 5 tablespoons of olive oil, 1, 5 tablespoons balsamic vinegar, half cloves crushed garlic, 1/4 teaspoon salt and black pepper to taste. Close the lid and shake well.




The sauce for the salad "Caesar» h3>





Whisk 1 teaspoon mustard 1 egg yolk and 1 teaspoon of salt. Carefully pour a drop of 150 ml of olive oil, whisk until the consistency of mayonnaise. Add 1 tablespoon of lemon juice, 1 teaspoon pepper, 2 cloves crushed garlic, 50 g of grated parmesan and whisk whisk all. You can fill not only the "Caesar", and any other salad and use as a sauce for meat.




Greek Tzatziki sauce h3>





Mix 125 ml of yogurt, 2 cloves minced garlic, peeled 1 grated cucumber (cucumber thoroughly before adding overcome all flesh), 1 tablespoon of olive oil and lemon juice, chopped parsley, dill and salt to taste. Put in the fridge and let it brew.




beetroot with horseradish sauce h3>





Rub on a small grater one small beets, pickled cucumber, finely chop and mix them with 100 g of mayonnaise and sour cream 100g. Add 2 tablespoons of horseradish. The sauce is good for meat and as a separate snack.




curry - for everything h3>





Curry - very rich and delicious sauce that is suitable for any meat, fish and poultry, as a sauce for rice. It can not only bring to the table, but also to prepare him meat and vegetarian dishes. Finely chop and fry in a deep frying pan 1 onion and a few cloves of garlic, slowly sprinkle in 1 tablespoon of flour and stir. Remove the pan from the heat and pour in the broth, making sure no lumps are formed. Stir 2 tablespoons curry powder, return to the pan and simmer for 5 minutes. Add 1 teaspoon of lemon juice and mustard, turn off the heat and season with 1 tablespoon of cream. Serve hot.




Turkish spicy sauce
- Meat, chicken h3>





Trouble with this sauce will be quite a bit, and get tasty. Load the blender 2 onions, 1 tablespoon tomato paste or one large tomato, 1 red bell pepper. Crush them and the resulting mass is put 2 tablespoons of olive oil, salt, red and black pepper, half teaspoon Coriander powder, coriander, dill, 1 teaspoon of lemon juice or vinegar (which is closer to you), stir well and let it brew.

Sources: so simple, Poster Food, Cook
Photos in the preview: Prostokvashino





via prostokvashino.ru/culinary-academy/article/gotovim_sous_dlya_shashlyka