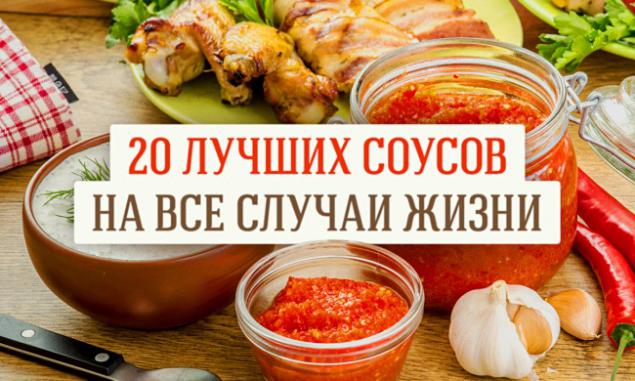 sauce very simple dish becomes difficult. Even tiresome chicken or potatoes will be every time to turn into a delicious dish, if you cook them today - the "salsa" and tomorrow - "bechamel".
Website to collect for you the most delicious and easy to prepare the sauce with ingredients that can be found in the shop.


bechamel h3>





Bechamel - it's a classic and it suits almost everything. Delicate sauce can be put into a paste, to fill their salad, with fish, seafood, vegetables, chicken and turkey and other dishes.

In a pan pour 2 cups of milk and heat (not to boiling). In a deep frying pan melt 3 tablespoons butter, add 2 tablespoons of flour and stir well. Carefully, in small portions, to pour the milk into the pan, stirring vigorously to avoid lumps formed. The sauce boil, stirring, and simmer 1-2 minutes. It should thicken. Season with salt and, if desired, add a pinch of nutmeg, turn off the heat.




Tomato sauce from Italy
- The best seasoning for pasta and pizza h3>






Heat a little olive oil on the bottom of a large pan, add 1 chopped onion and 3 cloves of crushed garlic. Fry for 7-8 minutes. Add 1 tablespoon of oregano, 800 g of chopped canned tomatoes, 2 tablespoons tomato paste and one - sugar. Simmer until the sauce thickens. Then add 4 fresh tomatoes, previously peeled and seeds. Season with prepared sauce with salt and pepper.




Garlic Sauce h3>






This champion of the simplicity of cooking sauces. Finely chop a small bunch of dill without thick stems and slightly primnogo knife blade to highlight the juice. Mix the dill with 250 g of sour cream, to squeeze out the garlic clove (two or three - depending on the strength of your love for the garlic), mix, salt and pepper. The sauce is ready.




creamy mustard sauce - perfect for fish h3>