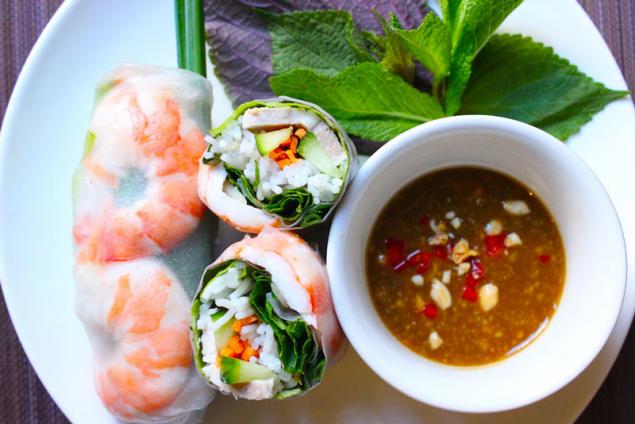 Chinese cuisine is very original. As you know, many of the dishes are eaten with chopsticks – special devices, exciting pieces of food, like bird's beak. One of the basic principles – the dish should consist of small pieces that did not require additional effort. Two principles of Chinese cuisine and read – to cut and right fry. It is therefore an important place in Chinese cuisine given to the sauces. To dip in the sauce the pieces of meat or vegetables by using chopsticks is a ritual.
Sauces of different saturation, a wide variety of strong spices, spicy and pungent. Just imagine — their number exceeds 300 species. Dark sauces (e.g., soy), applicable in the diet, perfectly enhance the flavor of cereals and soups. Light sauces are more salty and spicy. Inclined to the philosophy of the Chinese nation believes that the dips correspond to male power "Yang", which combined with the cool light of the female strength Yin other products that turns food into perfect and harmonious dishes.
Chinese sauces — preparation products. The sauces are divided into light and dark, often use only as part of a marinade, dilute with water, vegetable oil, or wine. Also added vinegar and honey. First, second and more salty taste, so the main meal and rice, which the Chinese worship more than bread, try insufficient salting.
Chinese sweet and sour sauce
For our sauce as the base we use chopped dill pickles and some tomato sauce with cognac.
INGREDIENTS:
pickled cucumbers — 3 PCs.
vegetable oil — 1 litre
potato starch — 2 tbsp
wine vinegar — Paul L.
brandy — 2 tsp
ginger
tomato paste — 1 tsp
sugar — 2 tsp
METHOD OF PREPARATION:
Pour vegetable oil into a pan and slightly calcined in the fire. Add the chopped pickled cucumbers and simmer 5 minutes.In a bowl mix potato starch, sugar, wine vinegar, tomato paste and required quantity of brandy. A good mix up and pour the water.
The resulting mixture pour over the cucumbers, simmer for another 5 minutes on low heat. Serve in separate bowls so you can dip pieces or directly in the dish with the main meal.
Chinese hot sauce
Despite the fact that the sauce is very rich and is composed of a large number of ingredients, to prepare it is much simpler than for example, the famous Worcestershire. At its core, it contains soy sauce, which is prepared in the factory.
INGREDIENTS:
rice vinegar and soy sauce (2 tbsp)
spicy bean paste (3 tablespoons)
sherry or rice wine (2 tbsp)
honey (teaspoon) canola oil (2 l)
chilli (2 per pod)
corn starch (1 tsp)
chopped ginger (1 l)
garlic (about podgoloski)
tofu or finely chopped vegetables (1 Cup)
shallots (separate green and white parts)
METHOD OF PREPARATION:
Combine the following ingredients: sherry, rice wine vinegar, soy sauce, starch, honey, spicy bean paste. The ingredients are stirred until complete dissolution of ingredients. In a pot heat oil and fry dried chilli until Golden brown.
A pepper pull, and in a pot add tofu and vegetables, fried to a crisp. In another bowl mix all the ingredients and bring to a boil.
To put almost all the chopped green shallots, and remaining herbs to decorate the dish. It is an ideal dressing for meat, rice, seafood and the famous Chinese noodles.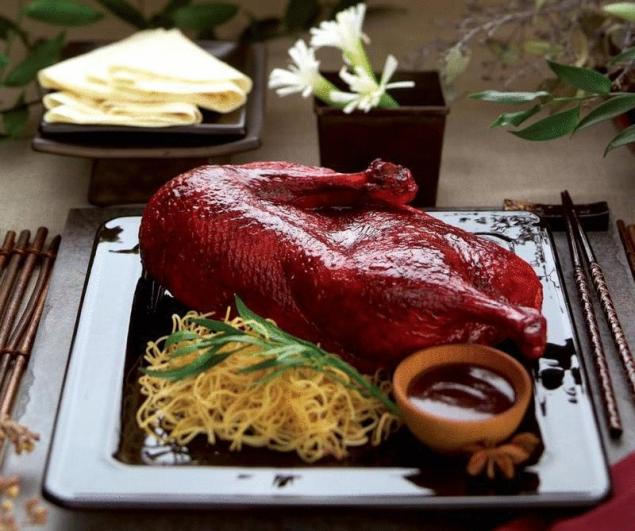 Duck in Chinese sauce
This delicacy is famous all over the world. Even the chef of the Imperial cuisine cooked Peking duck for their rulers. For this purpose a specially bred ducks, fattening their cereals, so they were very greasy. Hung bird plucked and necessarily dried, then baked covered in melted sugar in the oven. The meat is quite lean, delicate taste and extremely flavorful.
INGREDIENTS:
duck, big and fresh, can be frozen
onions (2 heads)
fresh ginger
lemon (1 piece)
dark soy sauce (1 l)
dry sherry (150 gr.)
strong chicken broth (150 gr.)
METHOD OF PREPARATION:
Duck should be defrosted in advance, prepared and dried. It is better to blot it with a towel. Onion, ginger, lemon with the peel cut into thin slices. Put in a large pot or cauldron. Add water (a little more than a liter) and soy sauce, bring to a boil, and hold for 20-25 minutes. The mixture poured duck and hung it to dry in the fresh air.
At the bottom put a basin to drain fat or liquid. It can dry all day or night. Choose a suitable baking tray and spread on it a duck. Add chicken broth to absorb the fat.
The oven will heat up to 240 degrees and bake. 15 minui reduce the temperature and bake for an hour. Leave for 10 minutes to saturate and cool. To the table serve with tortillas.
Chinese noodles in a vegetable soy sauce
We get a few servings of great Chinese noodles in sauce with carrots, sprouted sprouts, soy sauces, chili peppers and figs.
INGREDIENTS:
pork fillet (1kg)
carrot (2 pieces)
leeks (1 stalk)
Chinese noodles
soy sauce (20 oz.)
garlic
figs (100 g.)
water (200 gr.)
METHOD OF PREPARATION:
Cut the meat into strips and grate the carrots on a grater. Chop the onion half-rings. Fry in butter the meat and add all spices along with soy sauce.
Mix with the carrot and onion and slightly warm. Dilute with water.
Boiled noodles are added to the mixture with meat and mix. To hold under the lid for five minutes and serve.
Chinese sauces — useful tips experienced cooks
There are many options of sweet sauces, such as plum, although it probably can be attributed to the category of sweet and salty. Prune juice and season with salt, add sugar, vinegar and thickener. It blends perfectly with the bird – the same Peking duck or pork steak. Also dipped rolls and Chinese dim sum.
Bon appetit!
Source: koko.by/recipes/12431.html