Varied and wholesome food necessary for good health especially in spring, when the body is exhausted after the winter. Besides, fasting is a voluntarily assumed limitations. And limitations, we are convinced, we need not only to subdue the flesh and thoughts, but in order to learn how to make the most of the opportunities before us.
Today we offer you to look towards Asia. Japanese, Chinese, Thai and Korean food has long ceased to us to be something unknowable. Products such as soy sauce, rice vinegar, noodles and coconut milk is now available in nearly any supermarket for a very reasonable price. A hot, spicy and sour taste of Asian food — what you need field a long winter.
Therefore, your attention — 10 of meatless dishes, from appetizers to desserts, inspired by the national Asian recipes.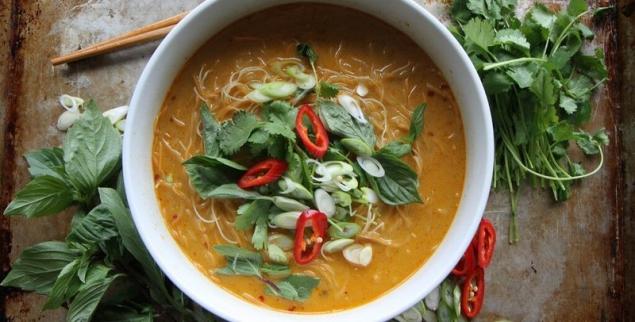 Cucumber salad with sesame seeds
is Light, refreshing salad that will come in handy as the festive and everyday table.
For 4 servings:
Cucumbers — 400 g
Fresh chili pepper — 1 PC.
Lime — 1 PC.
A few sprigs of mint
Vegetable oil (olive, sesame or sunflower odorless) — 4 tablespoons
Sesame seeds — 2 tbs.
Soy sauce — 3 tbsp
Sugar — 1 tbsp
Salt — to taste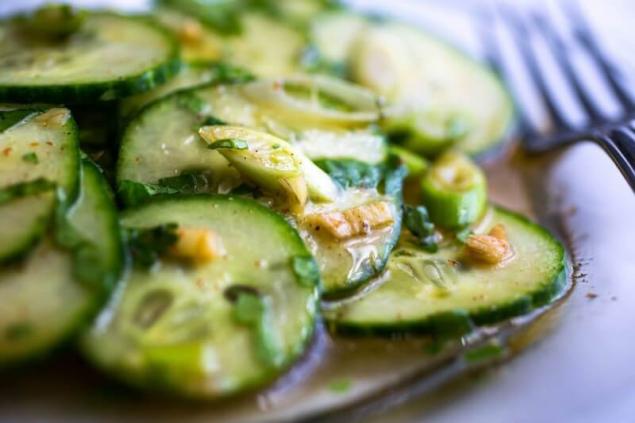 Cucumbers wash and cut lengthwise into 4 pieces, and then the cubes with a length of 5 cm Put in a bowl. There also crumble the chili pepper (remove seeds) and mint leaves. Sesame fry in a dry pan until Golden brown.
To mix dressing:
lime juice, soy sauce, sugar, salt and vegetable oil.
Stir well and season salad. Leave to infuse in the refrigerator for about 1 hour. When serving, sprinkle with roasted sesame seeds.  
Pickled mushrooms
Pickled in this way the mushrooms will be ready the next day. They are good and as part of Asian lunch or as a side dish to boiled potatoes with vegetable oil.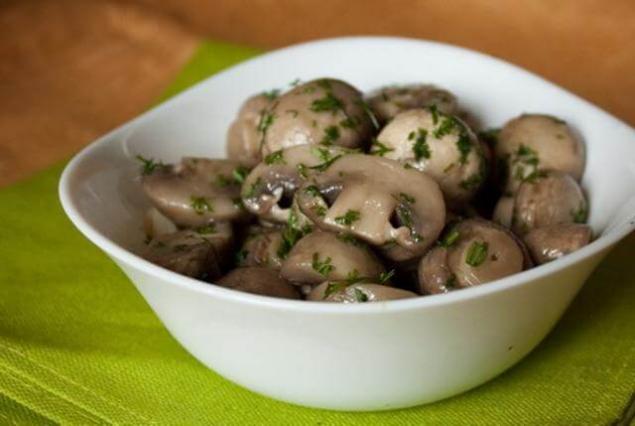 For 4 servings:
Fresh mushrooms — 500 g
Soy sauce — 5 tbsp
Rice vinegar — 4 tbsp
Vegetable oil without smell — 3 tbsp
Bay leaf — 2 PCs.
Black pepper — 10 peas
Allspice — 3 peas
Garlic — 4-5 cloves
Salt — to taste
Mushrooms wash, dry and cut into quarters. Garlic clean and chop not very finely. Mix all ingredients except mushrooms and bring to a boil. To try the salt, if necessary, it needs more salt. Pour boiling marinade to the mushrooms, mix well and stand overnight in refrigerator.  
Salad funchoza
Cellophane — thin noodles made from rice or beans. It is translucent, so it is called glass noodles. Cellophane does not require cooking, it is enough for a few minutes pour boiling water, then drain in a colander and rinse with cold water. Ready funchoza is used as an additive to soups, the base for salads and as a separate dish with different sauces.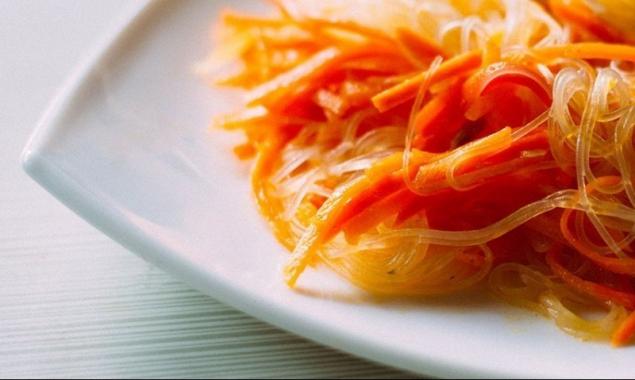 For 4 servings:
Cellophane — 200 g
Fresh carrots — 1 PC.
Bulgarian pepper — 1 PC.
Fresh cucumber — 1 PC.
Fresh ginger root length of 2 cm
Rice vinegar — 4 tbsp
Soy sauce — 5 tbsp
Vegetable oil without smell — 4 tbsp
Dried chili pepper (optional) — 1 pinch
Funchoza to cook according to the instructions on the package. Rinse with cold water, leave to drain. Scrape the carrots, cut into long ribbons with a vegetable peeler. Cucumber also cut into strips, leaving the pith — it has a lot of water. Bell pepper cut lengthwise thin slices. Peel the ginger and grate on a fine grater. Mix with oil, vinegar, soy sauce and, if desired, chili pepper. Mix the noodles with the vegetables, pour with the dressing. You can serve it immediately, but the next day, this salad is very good.  
Spring rolls
For this dish you need rice paper. Now it can be found in many supermarkets. It is a thin transparent brittle pancakes made from rice flour and water. Soaked in warm water, the pancakes are soft, elastic and slightly sticky. Of them it is very convenient to fold in small rolls, which you can then fry or eat fresh with a variety of sauces. The spring rolls come with a variety of fillings. Today we will consider the most simple and classic — with vegetables and rice noodles.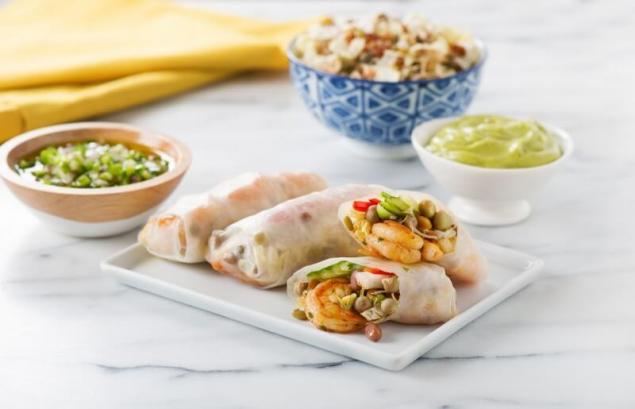 For 4 servings:
Rice paper — 16 sheets
Cellophane — 100 g
Carrot — 1 PC.
Half of a small zucchini
Half a large bell pepper
Vegetable oil, odorless frying
Soy sauce — 5 tbsp
Sugar — 2 tbsp
Rice vinegar — 2 tbsp
Corn starch — ½ tsp
Green onions — a few feathers
Fresh ginger root 2 cm
Salt — to taste
Funchoza to cook according to the instructions on the package. All the vegetables to grate for Korean carrot or finely chop. Sauté the vegetables for 2 minutes in 2 tablespoons of vegetable oil: the vegetables should remain crunchy. Mix the vegetables with funchoza and salt to taste.
To prepare everything in order to wrap the spring rolls: clear space, a bowl of warm water, rice paper and vegetables.
To prepare dip a sheet of paper in warm water, put on the table, wait a few seconds, then lay on the edge of the pancake with a tablespoon of the filling and turn in the roll, bending inside the lateral edge (as the usual spring rolls). Ready!
Now they can be served with sauce or fry in deep fat, blot with a paper towel and also serve with the sauce.
Sauce:
Peel and finely chop the ginger. Mix with sugar, soy sauce and rice vinegar. Bring to a boil. In 2 tablespoons of water to dissolve the starch, put in the sauce, mix well. Add the chopped green onions.
Spring rolls are eaten with the fingers, dipped in a sauce.  
Soup Kim Chi
About how people invented the Kim Chi, Japanese and Koreans still argue. Kim-Chi is a special way salted spicy cabbage. It can be found in the market in the departments with the Korean pickles. In addition, supermarkets and specialized stores you can buy a ready mixture of spices and pickle Kim Chi on their own.
Ready Kim-Chi eating in salads, fried with meat or vegetables, cook the famous eponymous soup.
Traditionally, the Kim-Chi soup is prepared with pork in a broth and raw eggs. We propose to cook a meatless version of the Kim-Chi soup with vegetables.
During the holidays, the soup can be supplemented with boiled shrimp.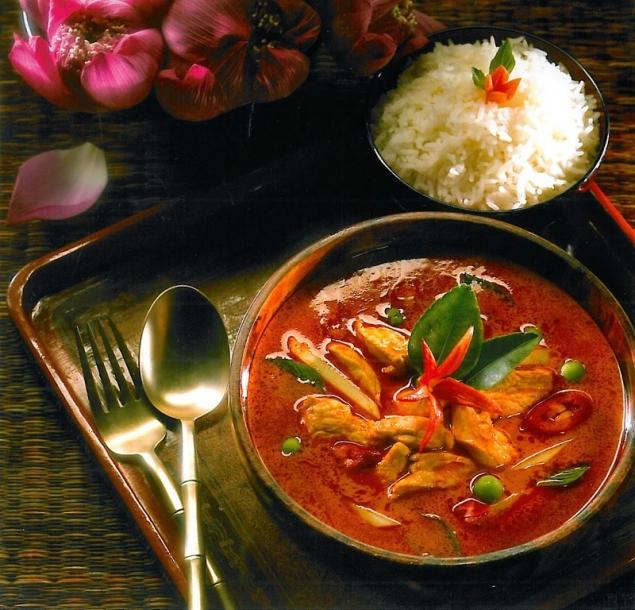 For 4 servings:
Ready Kim-Chi — 300 g
Onion — 1 PC.
Carrot — 1 PC.
Bulgarian pepper — 1 PC.
Garlic — 3 cloves
Soy sauce — 3 tbsp.
Rice wine (you can substitute dry white) — 50 ml
Vegetable oil, odorless frying
Salt — to taste
Dried chilli or chilli sauce — optional
Sugar — 1 tbsp
Boiled shrimp (optional) — 100 g
Onions and carrots cut into small pieces and fry on high heat. Add chopped into medium-sized pieces of Kim Chi fry on high heat for 5 minutes. Enter the bell pepper, fry all together another 5 minutes. Add rice or white wine to evaporate a bit. Pour boiling water (800 ml), boil until cooked Kim-Chi (it should be slightly crunchy in the middle). Season with soy sauce, finely chopped garlic, if necessary add salt, sugar, dried chili and spicy chili sauce. Let stand at least half an hour. If desired, add when serving, boiled prawn in each bowl.  
Soup in explanation of the Tom Yam
Traditional Thai soup with pepper, lime and coconut milk. Usually it is prepared with chicken broth, we propose to make a variation on the grounds — no meat, but with rice noodles and Chinese cabbage.
For the preparation of Thai soups use traditional Thai spices — lemongrass, lime leaves and galangal. Now you can find them in some supermarkets and specialty stores, or substitute the ginger, zest and lime juice. Also you can find in the spice aisle ready mix for the Tom yum soup.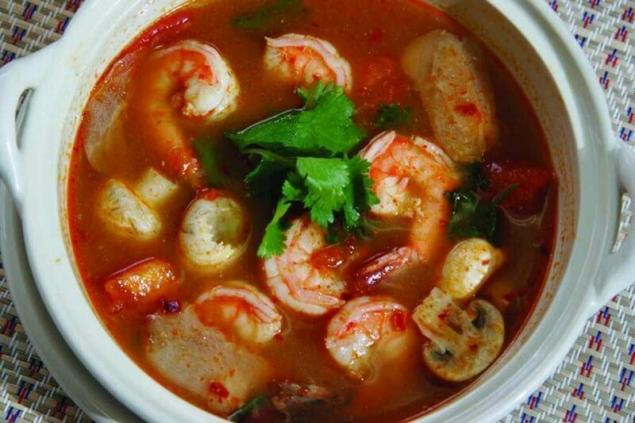 For 4 servings:
Onion — 1 PC.
Garlic — 3 cloves
Fresh chilli — 1 pod
Galangal (you can substitute fresh ginger) root 4 cm
Lemongrass (can be removed) — 5 stalks
Lime leaves (you can substitute the zest of 1 lime) — 5 PCs.
Vegetable oil, odorless frying
Fresh mushrooms — 200 g
Cherry tomatoes — 100 g
Dried chilli — a pinch
Salt, sugar — to taste
Coconut milk — 1 Bank
Lime — 2 PCs.
Fresh cilantro — 5-6 sprigs
Cellophane — 50 g
Chinese cabbage — 100 g
Boiled shrimp (optional) — 100 g
Onion, garlic, fresh chilli and galangal, lemongrass and lime leaves (or substitute ginger and lime zest) finely chop and fry for 10 minutes on medium heat. Add 800 ml of boiling water and cook for another 10 minutes. Meanwhile wash and mince the tomatoes (in half) and mushrooms (in quarters). Funchoza cook according to package instructions, rinse with cold water. Cabbage cut into thin strips. Cilantro finely chopped. From limes to squeeze juice.
In the boiling broth add salt to taste (should be slightly salty soup will still be diluted coconut milk) — sugar and a pinch of salt. Put the mushrooms and tomatoes, cook for another 2 minutes. Pour the juice of two limes, bring to a boil. Try the soup should be spicy, sour and salty. Pour the can of coconut milk, turn off the heat.
To serve: in each plate pour a few ladles of soup, add a little funchoza, a handful of Chinese cabbage and some fresh cilantro. Optional in a bowl, you can add boiled shrimp.  
Eggplant in soy sauce
This spicy dish can be as cold appetizer and a hot served with boiled rice or noodles. Flair gives him the honey in the composition of the marinade for eggplant.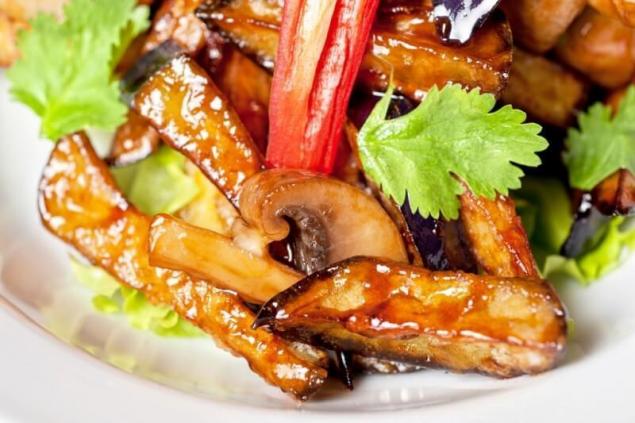 For 4 servings:
2 medium eggplant
Onions — 2 onions
Salt — 2 tbsp
Vegetable oil without smell — 2 tbsp
Soy sauce — 5 tbsp
Rice vinegar — 4 tbsp
A light honey — 1 tbsp
Freshly ground black pepper — 1 tsp
Eggplant wash and cut into cubes 1×3 cm, Mix the salt with 1 liter of water and soak for half an hour in brine eggplant, crushing plate, so they didn't come up. Soaking in a saline solution will help to remove eggplant bitterness and to keep the shape when frying.
Onions cut into half rings, and sauté in vegetable oil until soft. Add the squeezed eggplant and immediately behind them the vinegar. Cook on medium heat covered for about 5 minutes, stirring occasionally. Add the soy sauce and honey, stir and continue to simmer until cooked eggplants (they should be dark and soft). Add black pepper, mix well.
Can be served hot or cold. The next day, and infused the dish becomes tastier.  
Soba with shiitake
Soba — Japanese noodles made from buckwheat flour. It has interesting, strong taste, and is pleasantly diversified dishes from the usual wheat pasta. It is served with a variety of sauces, meat, fish, vegetables used in the soups.
We offer to try a hot dish of soba with mushrooms in a sweet sauce.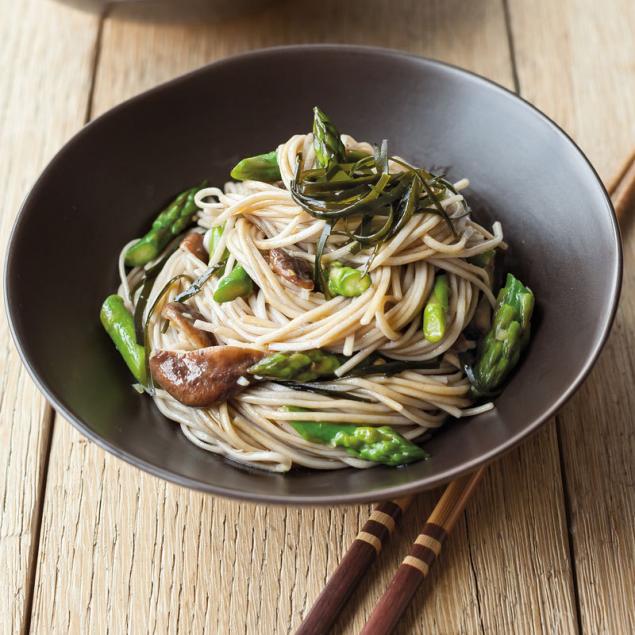 For 4 servings:
Soba — 300 g
Fresh oyster mushrooms — 400 g
Onions — 2 onions
Garlic — 4 cloves
Soy sauce — 5-6 tbsp
Sugar or honey — 2 tbsp
Half a small lemon
Vegetable oil, odorless frying
Optional — dried ginger, chili, paprika
Oyster mushrooms washed and cut into strips along the grain. Put on a dry frying pan and, stirring, cook on medium heat and wait until they are in the water. Cook the mushrooms until all the liquid has evaporated. Put the mushrooms on a separate plate, and in a frying pan passereau in vegetable oil finely chopped onion and garlic. When the onions become soft and transparent, add the mushrooms and stir fry for a few minutes. Add soy sauce, sugar, juice of half a lemon, optional — spice. Saute for 5 minutes under the lid. Boil buckwheat noodles according to the instructions on the package. Mix with the mushrooms in the sauce and immediately serve.  
Vegetables in sweet and sour sauce
It's bright and vitamin a dish best prepared in a wok, but if you don't use the usual large and deep pan. Importantly, the vegetables should be "free". The dish is cooked quickly and on high heat, all the products should be slightly raw and crunchy. Optionally, you can add in cooked vegetables pieces of tofu or boiled shiitake mushrooms. Serve as separate dish or with rice noodles.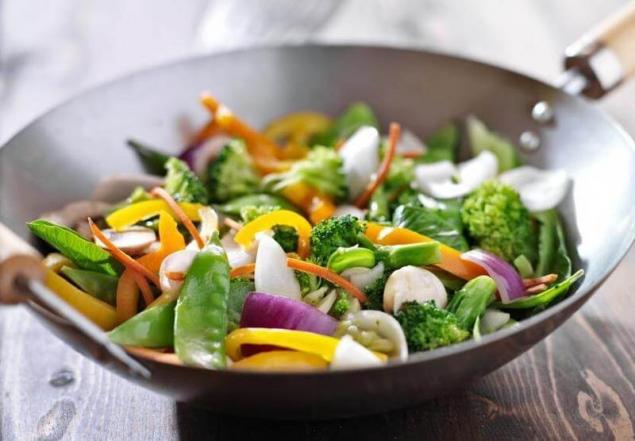 For 4 servings:
Zucchini — 1 small
Leeks — 1 stalk (white part only)
Carrots — 1-2 PCs.
Bulgarian pepper — 1 PC.
Green beans (frozen) — 100 g
Canned pineapple chunks — 80 grams (3-4 tbsp)
Fresh ginger root 4 cm
Ketchup — 3 tbsp
Rice vinegar — 3 tbsp
Sugar — 2 tbsp
Salt to taste
Corn starch — 2 tsp
The main thing — to prepare all ingredients in advance, then to minimize the time of roasting.
Beans to defrost. Scrape the carrots and slice diagonally washers with a thickness of 0.5 cm. Zucchini cut into semicircles, leek — thick circles, bell pepper — 2×2 squares. Ginger is very finely chopped.
In a wok or large frying pan, heat the oil and fry the ginger. Add the carrots and fry on high heat for 2 minutes. Then add bell pepper and fry for another 2 minutes, stirring constantly. Add leeks and courgettes and fry for another 2-3 minutes. Add green beans and sauté 1 minute. Add pineapple, mix well. Pour in the vinegar, mix well. Season with salt to taste. Add ketchup and sugar, mix well. Add diluted in a quarter Cup of water starch, stir, wait until the sauce thickens, turn off the heat.
Serve immediately.  
Coconut jelly
Coconut milk is a very common product in Thai cuisine. With them to prepare soups, gravy, and drinks. Now it is no problem to buy and in Russia it is sold in canned form. In the post, many like to add it to your coffee instead of regular milk.
We propose to cook a coconut milk jelly. And the Asian touch to the dish will add zest and lime juice and cardamom.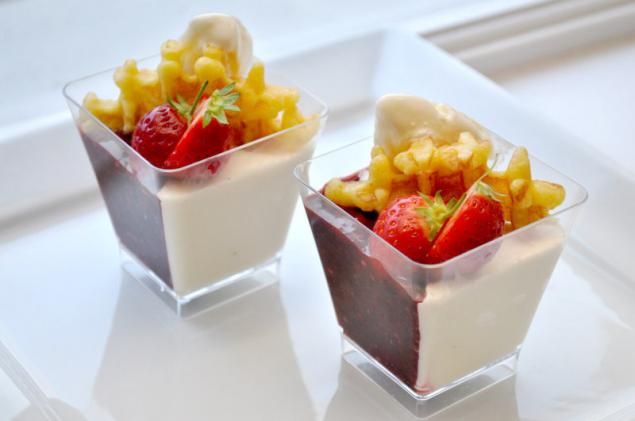 For 4 servings:
Coconut milk or cream — 1 jar
Gelatin (you can substitute agar-agar) — 10 g
Lime — 1 PC.
Sugar — 5 tbsp
Cardamom powder — a pinch
Fruits to feed
Soak the gelatine in half a glass of water, leave for half an hour, then heat to dissolve the gelatin. Add sugar, juice and zest of lime, cardamom, stir to dissolve the sugar.
Mix with coconut milk, pour into kremanku or moulds and leave to harden in the fridge.
Serve with cut fruit: mandarins, apples, pears.
If you replace gelatin, agar-agar, follow the instructions on the package of agar-agar to calculate proportions.
Cook with love!
P. S. And remember, only by changing their consumption — together we change the world! ©
Join us in Facebook , Vkontakte, Odnoklassniki
Source: www.matrony.ru/aziatskie-motivyi-na-postnom-stole/