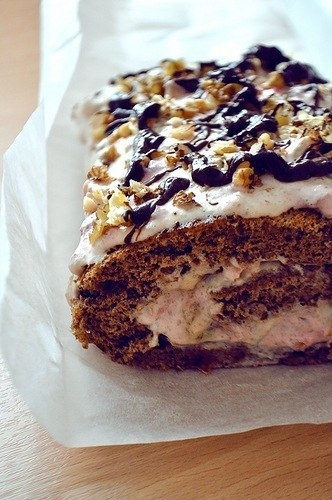 Ingredients:
5 eggs
Sugar - 140 g
Flour - 60 g
Cornstarch - 20 gr
Cocoa - 2 tablespoons
Fat sour cream - 400 gr
Walnuts - 70 grams
Cherry - 200 gr
Prunes - 100g
Dark chocolate - 40 g
Powdered sugar
Pinch of salt
Process:
1. Boil water, turn off the stove and put the bowl for the water bath. Beat the egg yolks with 100g sugar until fluffy and light weight. In another bowl, beat whites with the remaining sugar until peaks strong, as in a water bath.
2. Carefully enter the proteins in the egg yolks. Sift flour and mix with starch, cocoa and a pinch of salt. Enter the dry ingredients to the mixture, stirring gently with a spoon the dough from the bottom up.
3. Pour dough on a baking tray lined with baking paper and flatten. Bake the dough layer 10 minutes at 180 degrees.
4. Cream: Sour cream whip with powdered sugar, varying the amount to taste. In the cream, add the finely chopped cherries, prunes and finely chopped walnuts (50 grams).
5. Apply a layer of cream on the biscuit, leaving little for decoration roll. Gently fold in the biscuit roll. Apply the remaining cream on top, garnish with remaining walnuts. Chocolate melt and make a pattern of chocolate drops. Roll in the fridge and serve the applause =)