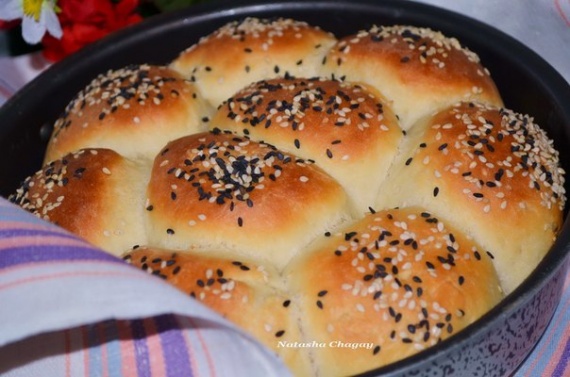 sour milk 280 ml
sugar 1 tbsp
salt 1 tsp 5
dry yeast 1 tsp + 1/3 tsp
sunflower oil 2 tbsp
flour / 370 g
sesame seeds 1 tbsp 5 + on the dough posypku
In the warm milk to dissolve the sugar and yeast, leave for 15 min.
Then add back salt, oil, sesame and gradually sift the flour. Knead the dough. If there is a bit stick to hands-okay. Remove 2 hours to rise. Then obmyat leave another 1 hour. Then split into equal pieces, roll balls, coat with butter, put in shape. Until heated oven to 200 * Let stand up.
Grease the muffin egg or milk and sprinkle with sesame seeds and bake until golden brown.
Buns come not sweet.