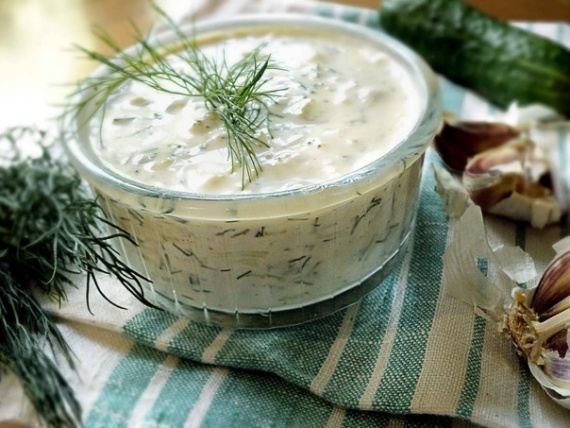 Ingredients:
1 cucumber
240 g of a thick yogurt (in our case "assets" classic 3, 5%)
2 cloves garlic
1 teaspoon olive oil
20 g dill
1-2 tsp lemon juice
Salt and ground black pepper to taste  
Preparation:
Wash the cucumber, remove the peel and finely grate. To obtain a liquid sauce, be sure to sslit extra juice or squeeze through cheesecloth. Garlic clean, wash, dry and finely chop or pass through spadefoot. Wash greens, dry. Dill finely chop.
Mix the grated cucumber, chopped garlic and dill. Add the yogurt, olive oil and lemon juice, mix well. Season with salt and pepper.
Before serving, refrigerate the sauce, place in bowls, garnish with olives and dill. Tzatziki Serve with tiropitoy or lightly toasted pita bread, cut into strips, as well as meat and poultry.