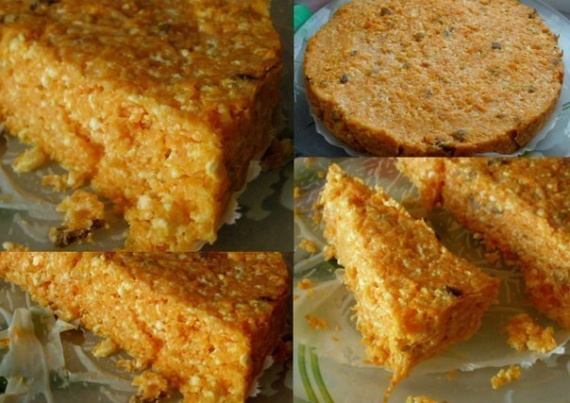 (100g - 120.68 kcal)
Ingredients
carrot-800gr.
tvorog- 600gr. (fat-free)
egg-3pc.
sugar 100g.
raisins, 50g.
butter 10-30gr.  
How to cook?
1) Carrots grate. Extinguish with water (you can add a little milk) until cooked.
2) Put the warm oven 200 gradusov.Vystelit form of parchment.
3) Cottage cheese mash with fork thoroughly, rub with egg yolks, sugar and vanilla. Add raisins.
4) Mix the cottage cheese with carrots.
5) Beat the whites until fluffy peny.Akkuratno mix well.
6) Put into a mold, put a few pieces of butter.
7) Bake for at least half an hour.
PPSEto dish like even those who can not stand carrots.
Bon Appetite!