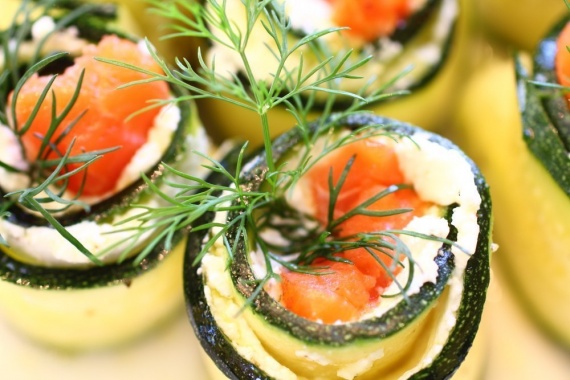 Ingredients:
2 zucchini
200g cream cheese (Almette, Philadelphia)
80 g cold smoked salmon
3 tbsp olive oil
Salt and pepper to taste
1 branch of dill to decorate
Preparation time: 30 minutes
Servings: 4-5  
Preparation:
1) Zucchini cut into thin strips lengthwise. The easiest way to do this peeler. Be warned: the work is not easy! The strips should be thin enough to curl up and not too thin, not to tear.
2) a large plate or grease evenly sprinkle with olive oil, sprinkle with salt and pepper. Put the zucchini strips on top, push and turn to the other side. This is the easiest way to spice up evenly delicate and fragile strips of zucchini.
3) cut in small cubes Salmon, a diameter of no more than 1 cm and a length greater than the width of strips zucchini.
4) Coat each strip zucchini thin layer of cream cheese, leaving a free 1 cm of the upper and lower edges and approximately 0, 5 cm on each side. Lay a piece of salmon on top and start gently wrap rolls. Adding a horizontal seam down to zucchini fixed form. So proceed with each strip.
5) To apply, turn the rolls vertically, from top to garnish with dill and serve immediately!
Note: This snack can be prepared several hours in advance. You need to prepare and serve!