Uzbek Aliyeva - something more than just a roll. Always cook just 2! Bashny.Net
Today
«Website» offers a virtual journey on a hot Uzbekistan prepare delicious national dish of this country - Mehriban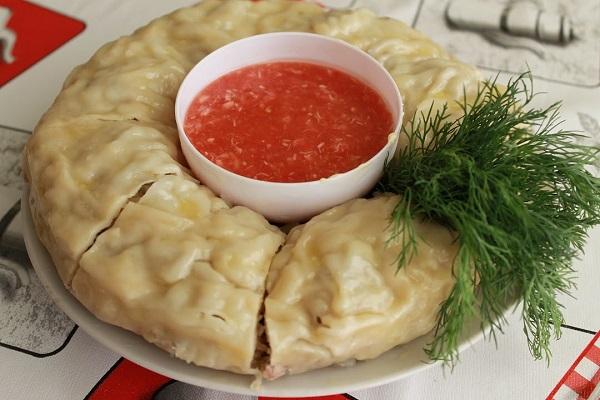 Khanum - not only the name of the feast. Hanon, hunon, Hanim, Hunan, and Burmese, kyrkabat, Oromo - all these names are simply steam roll. Some also called lazy manta rays
How to cook recipe hanumKlassichesky Khanuma involves stuffing, consisting only of potatoes, onions and spices. Adding meat, we get Gul-Khanum ... Him and will do!

Ingredients for the dough into 2 rolls
500-600 g of flour 100 ml of cold water 1-2 Art. l. vegetable oils a pinch of salt

Ingredients for the filling 2 rolls
600 g lamb 2-3 bulbs 1 tbsp. l. melted butter 5 medium potatoes 45 g sheep fat (for juiciness) coriander Powdered cumin < paprika salt

Preparation
In a bowl sift the flour. Make a well in the center and pour a thin stream to the cold water, add oil and salt. Knead the dough, podsypaya flour if necessary. Cover dough film and send it in the fridge for about an hour. And while it rasstaivaetsya, Loans filling. The meat washed, cut free from the film. Finely chop: the smaller, the better. Sheep's tail fat and chop and mix with the meat. we shall cut onions finely, add it to the meat, remember all the good hands to stand out juice. Grist is filling all the spices and salt, mix. Peel the potatoes, we shall cut into small cubes, and also add to the meat. Get the dough from the refrigerator, divide into 2 parts, each of which roll out in a thin layer. The stuffing also be divided into 2 parts. Spread thin layer over the dough, leaving a free edge. Roll up roll, Pinch edges of dough.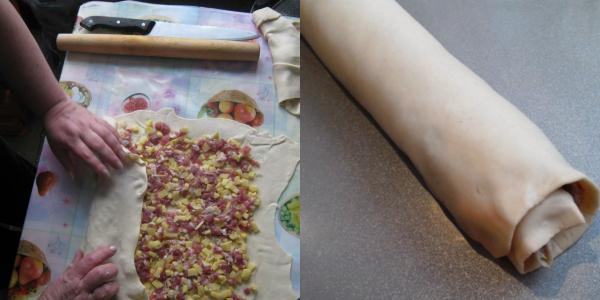 Brush the roll with oil and grill for cooking on a couple. Place the grill on a suitable diameter of the pan, do not forget to pre-boil water in it. Steamed 45-60 minutes.




Conveniently this dish cook multivarka , laying out roll in a special bowl for steaming.



Bring Aliyeva hot, sprinkled with greenery, with a fragrant sauce, such as tomato or cream ... convened by relatives to the table! Once all rassyadutsya, sharp knife, we shall cut the roll into portions.

Treat friends dish with oriental flavor - share with them the recipe

!
Tags
See also
New and interesting
New and interesting