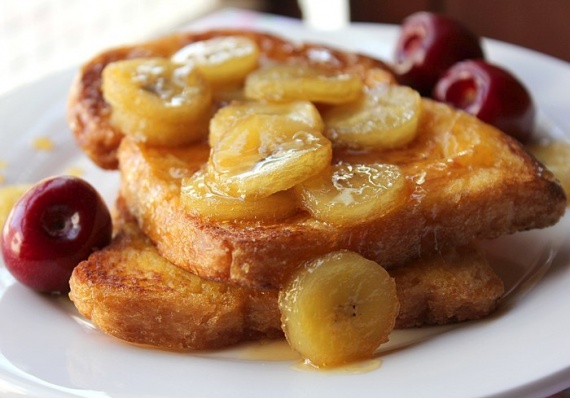 Ingredients:
2 medium slices of bread (loaf)
2 medium eggs
3 tablespoons milk
1/2 teaspoon sugar
2 tablespoons butter
For the caramel:
1 tablespoon butter
4 tablespoons brown sugar
4 tablespoons of water
1 small banana
Preparation:
Whisk eggs with milk and sugar.
Dip each slice of bread into the mixture. Heat a frying pan over medium heat, pour in the oil and fry the toast hissing oil on both sides until golden brown.
Caramel in a small saucepan, mix the oil, water and sugar. Bring to a boil over medium heat. Let the mixture simmer for about 3 minutes or until mixture begins to thicken.
Remove from heat. Add the sauce bananas. Cover anything and leave for 2 minutes.
Pour caramel toast and serve.