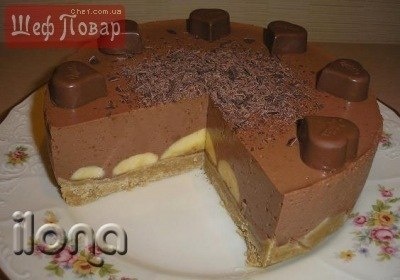 Ingredients:
 - 200g biscuits
 - 50g butter
 - 400ml sour cream
 - ½ cup milk
 - 4 tablespoons sugar
 - 3 tbsp Mount cocoa powder
 - 1 package of gelatin (10 g)
 - 2 bananas
Preparation:
Cookies grind in a blender. Melt butter in a water bath. Mix crushed cookies and butter.
Split form (20cm) vystelit baking parchment. Pour back cookies, compacted and put on 15 minutes in the refrigerator.
Pour 4 tablespoons gelatin of water at room temperature for 15 minutes.
Sour cream mixed with 2 tbsp sugar.
Swara hot chocolate. To do this, mix 2 tablespoons sugar, cocoa and milk. Put this mixture on sooo small fire and cook, stirring constantly, for 2-3 minutes.
Slightly cooled chocolate mix with sour cream. Gelatin to warm in the water bath until completely dissolved, but do not boil! Add gelatin to cream and mix well.
Bananas cut lengthwise and put them on the frozen cake.
Pour the cream on top. And to put the cake in the refrigerator for 4-5 hours, preferably overnight.
Remove the cake from the mold, remove the paper and decorate to your taste.
Bon Appetite!