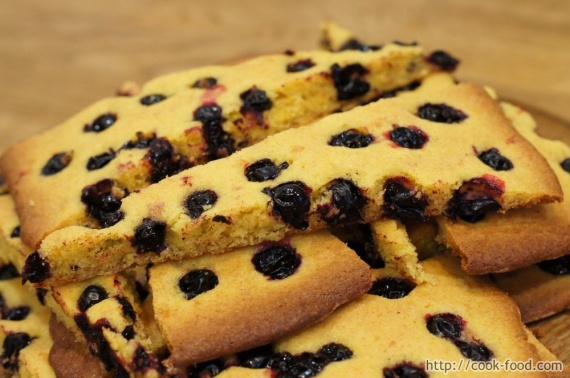 Ingredients:
 - 160 grams of flour
 - 4 egg yolks
 - 125 grams of butter
 - 100-150 grams of black currant
 - 100 grams of powdered sugar
 - 2 teaspoons vanilla sugar
 - 1 tablespoon of liquid honey
 - A pinch of baking soda
Preparation:
1. In a bowl pour the egg yolks, add the softened butter, powdered sugar, vanilla sugar (I'm in a coffee grinder milled together with its ordinary sugar) and liquid honey.
2. Mixer whisk all in a homogeneous mixture. The result is something in the form of a cream rich yellow color.
3. Place the flour with a pinch of baking soda and knead the dough paddle. It is sticky, knead hands do not advise. Veiled baking baking paper and spread on him our dough with a knife. I circle of 30 cm diameter. You can make any shape, for example, depict a heart or a funny bear, if you have time :)
4. Distribute the dough black currants. I was slightly thawed from the freezer, but you can put immediately frozen, almost crushing it into the dough.
5. Bake the cake Breton about 15-20 minutes at a temperature of 160-170 degrees, watching the ruddy. Move it to the hot grill with paper, and then cooled down in the form of cut as we want. I sliced ​​segments :)