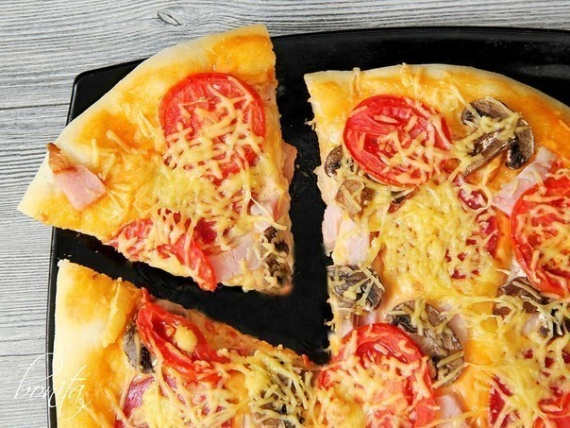 Ingredients:
 - 220 ml of water;
 - 0, 5 tablespoons flour;
 - 2 tsp dry yeast;
 - 2 tsp sugar;
 - 1 tsp salt;
Dough:
 - Article 2-2.5. flour;
 - 8 SL vegetable oils;
Filling any
Preparation:
In warm water to dissolve the yeast, sugar, flour and salt. Leave our brew in a warm place to ferment. About 25-30 minutes. Do not forget about the temperature of the water in which the breed yeast. Temperature of no less and no more than 36-39 degrees.
When our Opara increased in size, add to it the vegetable oil and flour. Add flour gradually, focusing on the test. It is better not to fill up than to pour. Knead the dough is tender and leave it in a warm place for 2 hours.
I share the dough into 2 parts. Do two medium pizzas with diameter 28cm. Each piece is stretched and hands kneading fingers around the edges, thus getting the circle of dough that will be the foundation of our pizza. Leave it in a warm place for 15 minutes. I do not use a rolling pin, pizza will not accept.
Well, now filling. Choose any kind love. I is a sequence in the ingredients: Based on smear mixture of mayonnaise and ketchup with a thin layer, then in a chaotic manner to scatter on pizza ham, mushrooms, tomatoes and overwrites all the cheese.
Bake in the oven for 20-25 minutes at a temperature 200gradusov. Focus on time relying on the power and features of your oven. I hold up a pizza until the dough is lightly browned bottom to the beautiful golden color.