Avocado — a welcome guest in our meals all year round! To choose avocado, and a special work, after all, rarely they are imported in supermarkets in soft ripe. Often have to pick up a solid sturdy fruit home and leave them at the post, waiting for avocados will attain the desired creamy consistency, because in this form it is able to create culinary wonders!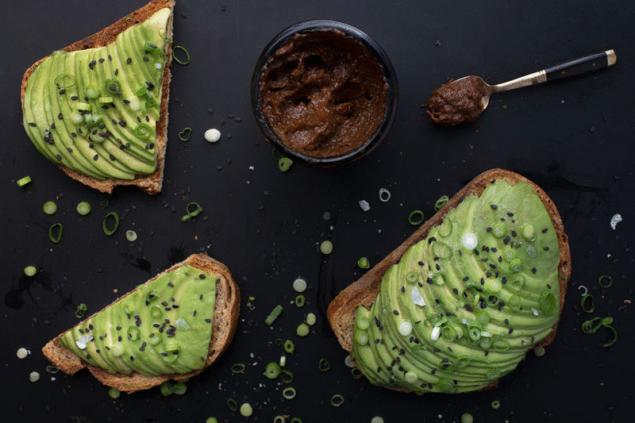 The diversity of avocado was useful for drawing up a full menu in today's review share with you the original recipes with avocado, from appetizers to dessert. Suggest to buy just a dozen of the fruit was enough for all meals!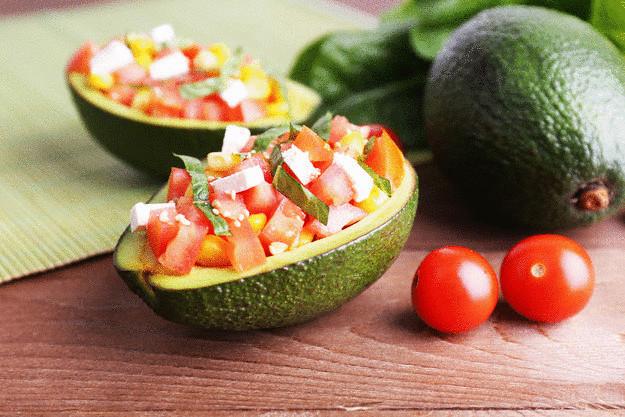 1. Avocado grill
, Start the day with healthy avocado, cooked on the grill. Instead of salsa you can use guacamole or scrambled eggs. Ingredients:
Avocado 1 PC.
Salsa to taste
Lime juice 1 tsp.
Olive, makopo taste
Salt, pepper on the tip of a knife
Sour cream to taste
Method of preparation:
Avocado cut in half and remove the stone. Each half brush with oil and sprinkle with lemon juice. Put the soft side down on the grill pan and cook for 5-7 minutes. Before serving, slices salt, fill with salsa and garnish with a spoon of sour cream.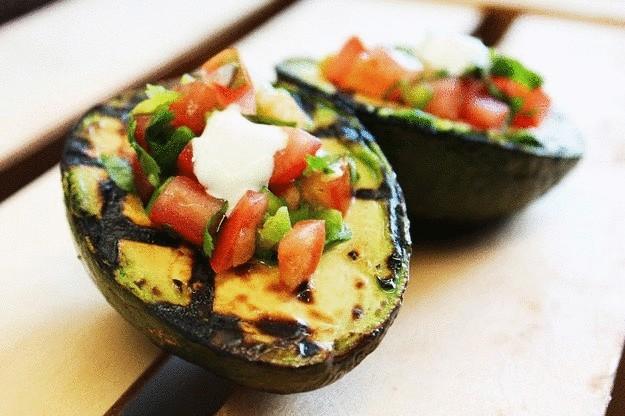 2. Eggs stuffed with avocado
Original starter for the meal with a light spicy mustard flavor. Simple to prepare, impressive in its taste. Ingredients:
Boiled яйца12 PCs.
Avocado 2 pieces
1 clove garlic
Olive oil 1 tbsp.
Gorchitza taste
Паприка1 tsp.
Lemon juice 11 tbsp
Method of preparation:
Eggs clean the shell, cut in half and gently remove yolks. In bowl, combine half of the yolks, the flesh of the avocado, grated garlic, paprika, lemon juice, mustard. Spoon the mixture into the egg molds, sprinkle lightly with paprika — snack is ready!
3. Toast with avocado and chilli flakes
How to make Breakfast toast more healthier and tastier? Just use a gentle flesh of the avocado as a separate spread! You only have to season to taste. Ingredients:
Whole wheat bread 2 slices
Авокадо1 PCs.
Olive масло2 tbsp
Chili pepper flakes чили2 tbsp
Salt to taste
Method of preparation:
Prepare the toasted bread. Use a fork to spread the flesh of the avocado on the toast, lightly drizzle with olive oil, salt and pepper flakes, use the same procedure with the other slice of bread. As a decoration you can use crushed pistachios.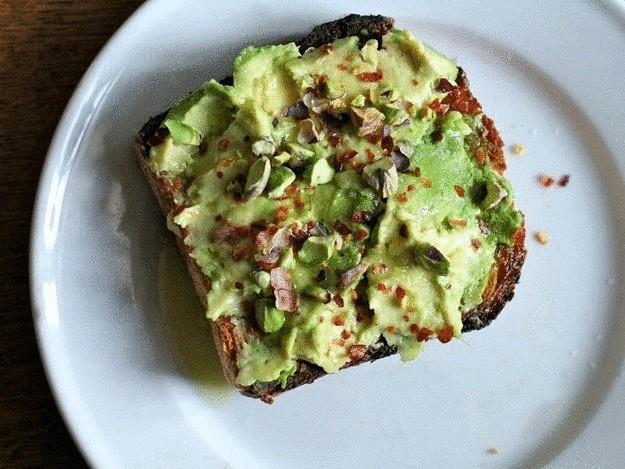 4. Pasta with avocado cream sauce
avocado as a base for a thick creamy sauce for pasta with the aroma of garlic and Basil! Ingredients:
Pasta 250 g
Garlic 1-2 cloves
Basil leaves 0.25 Cup
Lemon juice to taste
Olive масло1 tbsp
Авокадо1 PCs.
Salt and pepper to taste
Method of preparation:
Boil water in a saucepan and cook the pasta according to the instructions on the package. At this time, in a blender preroute garlic and Basil leaves. Add the olive oil, the flesh of the avocado, lemon juice and 1 tablespoon of water, re-preroute, season with salt and pepper to taste. Mix the pasta with the sauce, garnish with lemon zest and serve.