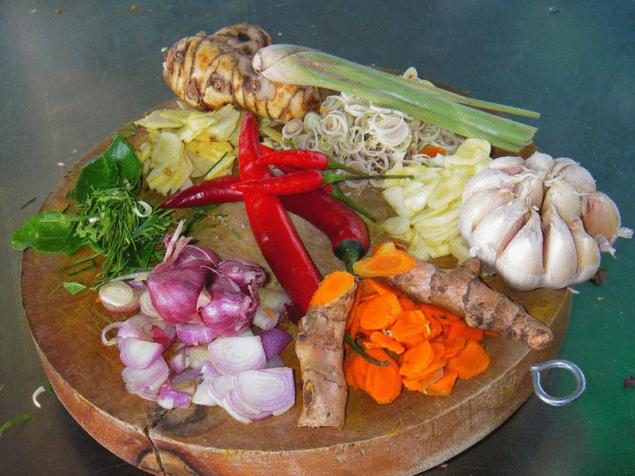 фото:praneesthaikitchen.com
Curry paste
is a blend of spice and flavor base for the same Thai dishes. Unlike the Indian "original", which is prepared and stored as a dry powder, the basis for the Thai curry always looks like a wet and spicy paste.
Varieties of curries throughout Thailand there are a great many, and in each province, this dish is prepared in different ways. But there are a few universal recipes adopted for the "classics" in Thailand and beyond. Six spice blends, six curry pastes.
1. Green curry paste (Kaeng Khiao Wan แกงเขียวหวาน)
For homemade green curry paste, we need:
8-10 green chili peppers
Bunch fresh cilantro (coriander) with roots
Coriander seeds — 1 tbsp (I have the photo already ground)
Jeera — 1/2 teaspoon
Galangal — a piece with a length of 3 cm
Lemongrass — 2 stalks
The leaves of kafir-lime — 6-8 PCs
Lime
Black pepper — 1/2 teaspoon
Shallots — 2 PCs
Fish sauce — 2 tsp
Salt — 1 tsp
Vegetable oil — 2 tbsp
Prepare the homemade green curry paste:
Pour coriander seeds, cumin and black pepper on a dry hot pan and allow them to warm up a little. Set aside. Cut the galangal, lemongrass, lime leaves, onion and garlic in small pieces to the blender grind it all over. Remove the zest from the lime. Downloadable all the ingredients in a blender and milled. Our pasta is ready!
фото:www.sentrymedicalgroup.org
2. Red curry paste (Kaeng Pet, พริกแกงเผ็ด)
The most famous and popular curry, with many variations. The red curry paste consists of dried red chili, galangal, lemongrass, zest of the Kaffir lime, garlic, onions, shallots, celery root, fresh black pepper, cumin, coriander and shrimp paste.
Literally, the name of this curry is translated as "sharp" and it's true: red curry is one of the most acute, even adding in a dish of coconut milk.
Cooked with red curry anything: chicken, beef, pork, seafood, and even frogs. Vegetables and herbs are traditionally added to Thai eggplant, bamboo shoots and Thai Basil.
3. Paste Penang curry (Phanaeng, พะแนง)
A kind of red curry that came to Thailand from Malaysia (hence the name: Penang is a Malaysian island off the coast of southern Thailand).
Part of Penang curry include dried chilli, galangal, lemongrass, root and seeds of coriander, cumin, garlic, shallots, salt and shrimp paste.
This curry is prepared less spicy and thicker than a traditional Thai red. Classic ingredients for Penang curry cut into small pieces beef or seafood in a thick coconut sauce.
4. Sour curry paste (Kaeng som แกงส้ม)
Spicy and sour curry paste is light red. With her cook sharp and fluid, like soup curry with fish, seafood or vegetables. In stores ready sour curry paste can be found under the name "Sour Vegetable Curry".
For the sour taste of the tamarind paste answers. The rest of the ingredients are standard: fresh or dried Chile, galangal, lemongrass, garlic, shallots, shrimp paste.
The main difference between Sour curry from the rest — the lack of coconut milk in the final dish.
5. Paste Massaman curry (Kaeng Masaman, พริกแกงมัสมั่น)
"Muslim" curry, whose name comes from the obsolete "mosalman". Includes not Thai spices — cardamom, cloves, cinnamon and star anise. Snuck in Thailand with Arab merchants, not with the Persian ambassadors.
Muslim curry cooked mainly with beef, at least — with duck, chicken or tofu. In addition to meat in Massaman curry add potatoes, Bay leaves and nuts (cashews or peanuts).
Massaman paste — dark red color, darker than the Red Curry.
6. Yellow curry paste (Kaeng kari, แกงกะหรี่)
The closest in taste to the Indian original curry paste. In the paste yellow curry includes coriander, cumin, turmeric, garlic, Bay leaf, lemongrass, Cayenne pepper, ginger, cinnamon, Trigonella (aka fenugreek and Shambhala), and nutmeg.
Yellow curry — very thick and "creamy" of all Thai curries. In addition to the coconut milk in it and add more coconut cream, plus a little palm sugar for sweetness.
Yellow curry is usually prepared with chicken, duck, potatoes and some vegetables.
Source: www.speciesinfo.ru/index.php/home/taiskie-pasti