Pumpkin puree many causes a persistent Association with child nutrition. And not very pleasant, because the pumpkin pulp with a strange color and consistency like not all children. During combat stereotypes and came up with this soup. The recipe I took from a favorite magazine "School of Gastronome", altering it to your taste. Like many Thai dishes, this pumpkin soup is built on contrasts: slightly sweet pumpkin will only benefit from the addition of spicy curry and aromatic spices. And the look of this bright and cheerful pumpkin soup pleased. In General, I recommend.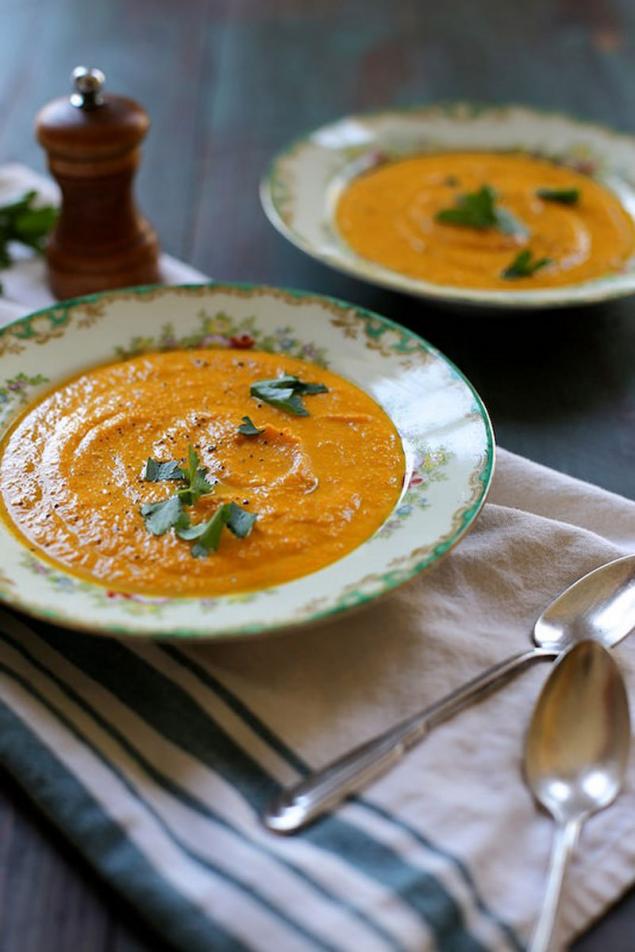 Ingredients:
400 g pumpkin
1 red onion
2 cm fresh ginger root
1 tsp green curry paste
200 ml of milk
200 ml of water
refined vegetable oil for frying
salt
Green sauce for soup
2 cloves of garlic
1/2 bunch cilantro
2 tbsp olive oil
1 tsp lemon juice
freshly ground black pepper
salt to taste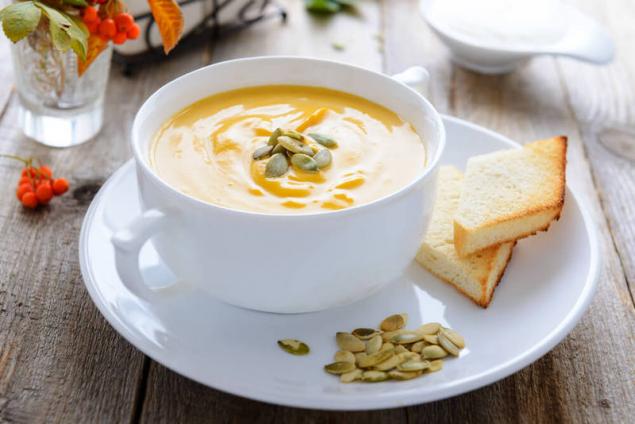 Preparation:
1. The pumpkin clean of the seeds and soft fibers, wash and cut the skin. This is easier to do if you cut the pumpkin slice into strips of width 1 see the Flesh cut into small pieces of arbitrary shape. Clean the onion. Cut several half-rings to decorate the soup, the rest chop. Ginger peel and finely chop too.
2. In a saucepan with a thick bottom heat the oil, fry the onions and ginger. Add the curry paste and pumpkin and fry for a few minutes and pour water. Bring to boil and cook on medium heat for 10-15 minutes until the pumpkin become soft. At the end of cooking you can open the lid once the water has evaporated: it should only lightly cover the pumpkin.
Sharpness pumpkin soup can be adjusted by changing the amount of green curry paste. If you are cooking for children, it is possible not to put. Although this soup has lost some of its spice, will still be delicious.
3. At this time, you can make a green sauce. Garlic peel, cilantro wash and dry. In a blender, blend greens and garlic, add the lemon juice, olive oil, salt, pepper and stir again.
4. Pumpkin soup poured into the bowl of a food processor and turn into puree, gradually adding the milk. Salt. Pour it back into the saucepan and bring to a boil over low heat, stirring constantly.
Pouring pumpkin soup over the plates, using a pastry bag or just a teaspoon to make a pattern of paste, decorate with red onion.
If desired, you can sprinkle the finished orange pumpkin soup with sesame seeds, toasted in a dry frying pan or pumpkin seeds.published
Author: Olga Kozakova  
Cook with love !  
Also delicious: How to make a delicate soup with arugula Perfect recipes for summer: soups, do not require cooking
P. S. And remember, only by changing their consumption — together we change the world! ©
Source: kit4enfairy.livejournal.com/7753.html